We have lost our columnist, architect Cengiz Bektaş
Cengiz Bektaş, one of Turkey's leading architects who for long years wrote articles in our newspaper, has lost his life.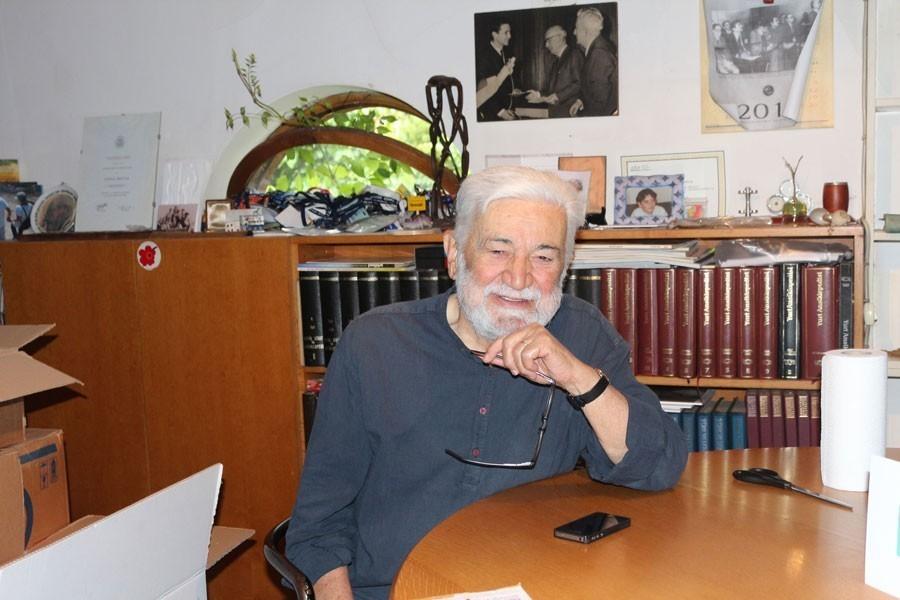 Cengiz Bektaş | Photograph: Sinem Uğurlu/EVRENSEL
Nazife YAŞAR
İsmail AFACAN
İstanbul
We have lost our newspaper's columnist, architect and poet Cengiz Bektaş. Holder of the Aga Khan and Mimar Sinan Grand Awards, Bektaş had been undergoing treatment for diabetes-related heart failure in an intensive care unit at a hospital in Istanbul for one week. Bektaş, who had penned his columns entitled "The Culture of Living" from our newspaper's early years, was 86.
WHO WAS CENGİZ BEKTAŞ?
Born on 26 November 1934 in Denizli, Cengiz Bektaş underwent his secondary education at Istanbul Boys' High School and his higher education in the Departments of Decorative Arts and Architecture of the Fine Arts Academy and the Faculty of Architecture at Munich Technical University. He completed his higher education in 1959. He attended German urbanization courses in 1960. He worked as a self-employed architect in Germany. He gained awards in two contests in which he competed there. He returned to Turkey on being summoned to a teaching post at the Middle East Technical University. He headed civil engineering and directed architectural affairs at the Middle East Technical University for one year in the 1962-1963 academic year.
He established his own architectural business along with Oral Vural in Ankara in 1963. He took part in architectural-urbanization contests for just six years over 1963-69. He won more than 25 awards. He brought into being buildings considered exemplary in Republican-period architectural history. He received the National Architectural Award twice. He won the international Aga Khan Award for the Akdeniz University (Antalya) Social-Cultural Centre building in 2001. The Turkish Language Institute building in Ankara is deemed by architects to be one of the twenty buildings symbolic of the Republican period.
Cengiz Bektaş was deemed worthy of the Aga Khan Architectural Award in 2001 and of the International Mimar Sinan Award in 2014. He was also deemed to merit the Mimar Sinan Grand Award at the National Architectural Exhibition and Awards in 2016.
HIS POEMS TRANSLATED INTO SIXTEEN LANGUAGES
Cengiz Bektaş embarked on his literary life with the columns he wrote in a local paper published in Denizli. He came first in a poetry contest at the State Fine Arts Academy in 1954 with Bedri Rahmi on the jury. Fazıl Hüsnü Dağlarca published Bektaş's poems for the first time in Turkey in Türkçe Dergisi in 1960.
His poems have been translated into sixteen languages. Along with his poetic writings, he has 106 works devoted to architecture and culture. He has participated and submitted papers at countless meetings abroad and at home.
He served as Second Chair in PEN's Turkish section for one term, Chair of the Turco-Greek Friendship Association for six years and for six years as Chair of the Turkish Authors' Association.
From the early years of Evrensel newspaper onward, Cengiz Bektaş wrote a column entitled "The Culture of Living."
Turkish Writers' Union Chair Adnan Özyalçıner and PEN Turkey Chair Zeynep Oral had the following words for Cengiz Bektaş:
EYÜP MUHÇU: HE WAS A SENIOR OF OUR PROFESSION
Chamber of Architects General Chair Eyüp Muhçu:
"Cengiz Bektaş had a special place in architecture and the history of architecture. He carefully formulated the relationship between nature and the city in his buildings. His works reflect a culture of living. For this reason, he won the Mimar Sinan Grand Award given biennially by the Chamber of Architects. He was an exemplary and colourful senior of our profession in all respects. He is known not just as an architect, but simultaneously for the many other sides to him such as poet, writer and journalist. He has bequeathed a very important legacy to the Chamber of Architects, the architectural community and society. We as a professional organization will stand by the values he produced and created. There have come most valuable contributions from him towards promoting architecture and fusing architecture with society in both Turkey and the international community. We will forever remember him with respect, love and longing."
ADNAN ÖZYALÇINER: OUR LITERATURE HAS LOST A POET WHO WAS DECENT IN SPIRIT AND WORD
Turkish Writers' Union Chair Adnan Özyalçıner:
"Cengiz was my school friend, my pal and a poet. He believed poetry was and should be language, and language poetry. He argued for his entire life that art was for people, not for art. His was a poetry that was of the populace and had a popular twang.
His humanist thought of the unity and mutual aid of people with people and society with society was the bedrock of both his poetry and personality.
I have lost a friend whom I will miss greatly. Our literature has lost a poet who was decent in spirit and word."
ZEYNEP ORAL: HE WAS A RENAISSANCE INTELLECTUAL
PEN Turkey Chair Zeynep Oral:
"Intellectual. Architect. Poet. Author. Researcher. Critic. All these fused together in him. His architecture complemented his writing and poetry as did his writing and poetry his architecture. I can almost call him a Renaissance intellectual. But he isn't quite this. His is a personality beyond the confines of ivory towers. An enthusiasm, excitement and delight-filled child-spirited intellectual, there among the people, on workers' shoulders and alongside those usurped of their rights, careering headlong through history and geography.
We said when awarding Cengiz Bektaş the PEN Poetry Award in 2018: 'We celebrate Cengiz Bektaş as an exemplary intellectual of ours who imbues his poems with a cheerful atmosphere just as he does the buildings he fashions, who gives lodging to Turkey from the Mediterranean to the Aegean in his poems and who stresses through his struggle the importance of writers living in an organized fashion with his pro-labour, humanist approach and passion for Turkish.' May he sleep in radiance."