Solidarity concert with Evrensel newspaper in Toronto, Canada
Solidarity concert with Evrensel newspaper will be held on February 2nd in Toronto, Canada.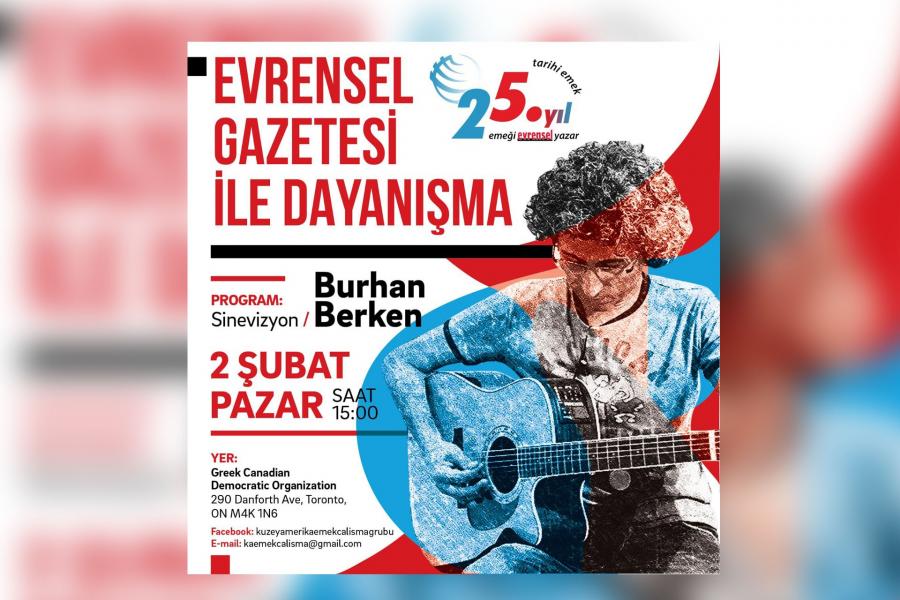 Ekim KILIÇ
Toronto
Readers of Evrensel newspaper will hold a solidarity concert with our newspaper in the hall of the Greek Canadian Democratic Organization on 290 Danforth Avenue on Sunday, February 2nd, in Toronto, Canada. Burhan Berken will sing at the concert; video screening and speeches presented be held by the readers.
The concert is being held with the aim of calling for solidarity against the financial siege imposed by the Press Advertising Agency (BIK) over our newspaper. BİK authorities counted the campaign as an element of a crime. According to BİK reports, readers buying more than three newspapers presented as a reason for ceasing advertisements. The BİK also reported on where the papers were taken after purchase. Evrensel's lawyer Devrim Avcı said that this was an attempt to punish the paper through its readership "Are you physically following readers? This is what comes through your reports."Following investigations in individual newsagents, BİK claimed that readers purchasing more than one paper constitutes an offense, and the paper didn't meet its minimum actual sales quota.
The concert was announced to start at 3 am on Sunday, February 2nd. Our readers stated that people could also reach the Labor Working Group of North America Facebook page, where the call will be published for detailed information about the concert. They can also reach out by emailing to [email protected] address.
Evrensel reporters' press cards have been canceled
Scandalous reason for cutting ads off for Evrensel: Readers' solidarity was considered as a crime
Evrensel Newspaper turns 25: Labour writes history and Evrensel writes about labour!
Story of the Evrensel Newspaper, since 1995
Evrensel has not been and will not be silent!
Evrensel newspaper turns 25: Trying to understand and change every day anew...