Women stage public opposition to violence, the crisis and inequality
Women staged actions and events in many cities to mark 25 November, International Day for the Elimination of Violence Against Women.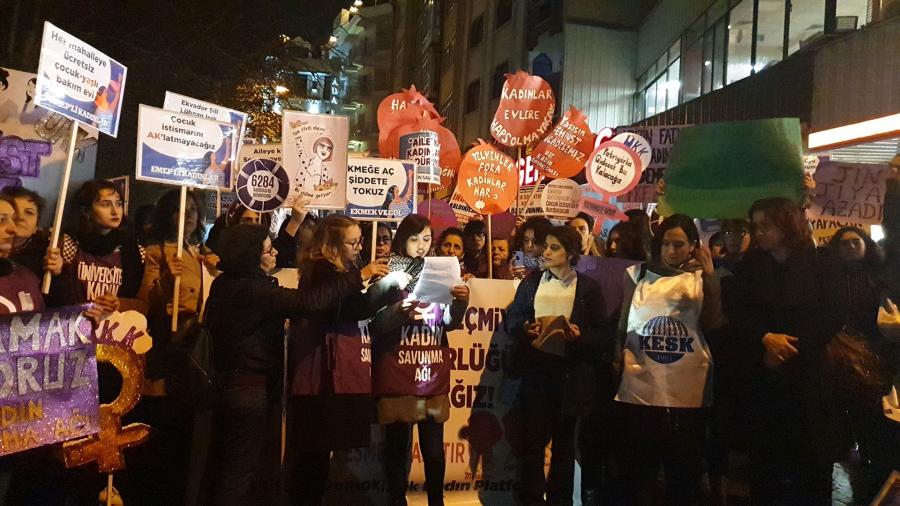 Just as throughout the world, women came out in all four corners of Turkey on 25 November International Day for the Elimination of Violence Against Women.
İSTANBUL:
In Istanbul, thousands of women congregating at the behest of the 25 November Women's Platform said, "We will not stand for the loss of one more person."
Thousands of women, whose struggles had led to the overturning of the ban on the action in Istanbul, congregated at the behest of the 25 November Women's Platform and staged a march from Taksim Tünel to the front of Istanbul Bar Association. Assembling behind banners reading, "We will not stand the loss of a further person," they carried the names of murdered women along with the slogans, "We are defending our life" and "An end to male violence."
ANKARA:
In Ankara, women marched despite police efforts to prevent them and said, "However much the assaults on our rights increase we will not take a step back." The police attempted to block the women who had assembled in front of Çankaya Municipality. With the women insistent on marching despite the blockade, the police yielded and removed the barricades and a spirited march was held to Sakarya Street.
İZMİR:
In Izmir, women, having marched from the front of the Student Selection and Placement Centre and making a press statement in front of the Alsancak Türkan Saylan Culture Centre, called for an equal and free world without violence, crisis, exploitation and war.
DİYARBAKIR, MARDİN, DERSİM, VAN...
In the provinces of the Kurdish region, various reasons were cited in the effort to block women who wanted to mark 25 November with actions and events. Despite this, women who assembled said, "We ae stepping up the struggle."
ADANA: WOMEN MARCH FOR THEIR RIGHTS AND LIVES
Women in Adana staged a march to protest violence against women and violence-fostering policies. Assembling in Abidin Dino Park and marching to Atatürk Park, women made a press statement. Justice was demanded for mime artist Daniella Carrasco, raped and murdered following her arrest in Chile, just like the Mirabal sisters. Young women students from the Union of Chambers of Turkish Engineers and Architects performed a brief sketch to draw attention to violence against women.
Sevil Aracı read the press statement on behalf of the platform. Noting that reduced sentences for good behaviour and injustices were instrumental in the increase in femicides, Aracı said, "Let us unite to win life in opposition to crisis, violence and poverty and that which unites us in death."
Women took to the podium where they were bursting to speak. Meryem Karalök, who came to attention for calling out "I want a divorce" and was sentenced for throwing a bag at her husband, noted that she was still being threatened by her husband and his relatives and said she would continue to struggle in unity with women.
HDP Adana Member of Parliament Tülay Hatimoğulları railed against the appointing of trustees and announced that they would continue to defend women's attainments and women's rights to life that the appointed trustees were trying to strip them of. Hatimoğulları said, "We as women will continue to be on the streets every day in opposition to the single-man regime."
"SIGHTS ARE SET ON LAWS PROTECTING WOMEN"
Stating that the law enforcement agencies and judicial authorities and ministries were not performing the duty assigned to them to prevent femicides, Sevil Aracı said, "In the absence of effective protection, we are being murdered before everyone's eyes despite the protective decisions taken under law number 6284. 383 women were murdered in the first ten months of 2019. Despite this, sights are set on the Law for the Prevention of Violence number 6284 and the Istanbul Convention and their annulment is sought, with it said, 'Men are being victimized.' Especially following the fanfare raised through groups like the "Victimized Divorced Fathers," the AKP administration is making endeavours along the lines of rescinding women's right to maintenance. The wish is to condemn us to violence-filled marriages."
"ECONOMIC CRISIS MANIFESTS ITSELF AS INSECURITY"
Pointing out that the economic crisis was augmenting women's difficulties in working life, Aracı declared that the struggle to make ends meet, the growing unemployment problem and widespread lack of organization manifested themselves as increasing violence against women and lack of safety and security in workplaces and homes and said, "Poverty, the reduction of household income through increasing inflation and the rise in unemployment also leads to a piling up of domestic violence. Mobbing, badmouthing, harassment and ill treatment at workplaces is increasing. The social effects of the crisis manifest themselves in the form of increasingly prevalent suicides."
"LET US UNITE ALL TOGETHER TO WIN LIFE IN OPPOSITION TO CRISIS AND THAT WHICH UNITES US IN DEATH"
Saying that, with Ceren Damar, Güleda Cankel, Özgecan Aslan, Şule Çet and many others slaughtered at universities, the Council of Higher Education was trying to revert the Social Sexual Equality course to a content that lauds the family, Aracı said, "With women at university subjected to violence and harassment on a daily basis, the likes of AKP-crony Sema Maraşlı try to atone for violence by saying, 'These are fictions; news of this kind comes out every day.'" Indicating that the call they were making in the face all such policies was not just to 'stand on your feet' but to 'rise up onto your feet,' Aracı said, "Come, let us unite all together on 25 November, the day of solidarity and struggle of all the world's women against violence, in opposition to crisis, violence and poverty and that which unites us in death. All women, move into struggle to wipe all traces of sexism, violence, exploitation, harassment and rape from the world."
KOCAELİ: "URGENTLY PREVENT FEMICIDES"
Women, congregating in Kocaeli's İzmit central sub-province, held a march forming a corridor with banners reading, "Urgently prevent femicides."
Coming into the street at the behest of the Kocaeli Women's Platform, women assembled in front of the İzmit Municipality Office Block and marched to the Human Rights Park. Protesting the femicides, harassment and inequality that increase day by day, the women shouted the slogans, "Shout, let all hear, let male violence end," "The world would go wild if women were free," and, in both Turkish and Kurdish, "Women, life, freedom" for the duration of the march.
Education and Science Workers' Union, Women's Secretary Sibel Yılmaz read the statement on behalf of Kocaeli Women's Platform.
MEN DRAW ENCOURAGEMENT FROM THE RULERSHIP
Stating that at least 383 women had been murdered by men up until November of 2019 as a consequence of language dismissive of social sexual equality, Yılmaz said along with their awareness of the increase in femicides and killers getting reduced sentences in courts because they wear ties, men were drawing this encouragement from the judiciary, sexist media and discriminatory rhetoric of the political rulership's representatives.
Yılmaz stated that until it went as far as murder women were left under violence or duress, in uncertainty, exploited in all regards and forced to take breath unaware of what would happen in the following days and women only became news when they were murdered.
Saying, "We, for our part, are here for a world in which the names of women are news not on dying or for the violence they suffer, but for the dreams they realize," Yılmaz stated that they dreamed of totally different, more contented, freer and more equal lives in which nobody would suffer violence on account of their identity. Yılmaz rounded off the statement by saying, "We know that if we do not do this nobody will do it for us. And we call out in unison that we will not lose one more person and long live women's solidarity."
Following the statement, the women dispersed after they had assembled around the banner "Prevent femicides" and sung the song, "Women are here."
WOMEN ON THE STREET IN GEBZE
The women of Gebze assembled in Gebze Kent Square on 25 November. Saying Gebze was one of the places in the whole country where crime against women and children was experienced most, they pointed to the need to struggle more and come together more frequently and in greater numbers.
Reading the announcement on behalf of the women of Gebze, Meral Süer said the abuse of children that had taken place at the private hospital in Gebze and Fatma Selen Ö., who had suffered her brother-in-law's violence, were crimes against women and children that had been experienced and were know about in the sub-province. She indicated that among the reasons for the increase in crimes were horrific judicial decisions and precautions that had not been taken.
Süer said gradually worsening working conditions resulting from increased exploitations was stunting women's lives.
Süer completed her address by saying, "If those experiencing the same problems combine on the same side and simply unify for liberation, it will be possible. We must expend greater effort and come together with far more of our sisters so as not to lose one more person, to escalate women's solidarity and struggle and call a halt to inequality." (EVRENSEL DAILY)