Istanbul Metropolitan Municipality Mayor Ekrem İmamoğlu explained the damages of Istanbul Canal with 15 items
Istanbul Metropolitan Municipality (IMM) Mayor Ekrem İmamoğlu described the Istanbul Canal project as a disaster, betrayal and murder project and explained its damages with 15 items.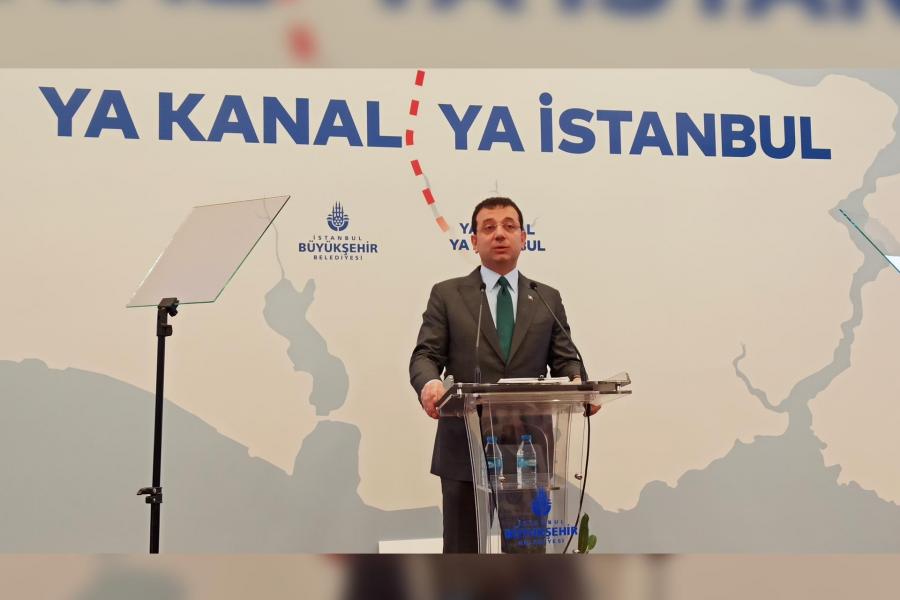 Photograph: Meltem Akyol/EVRENSEL
Istanbul Metropolitan Municipality (IMM) Mayor Ekrem İmamoğlu held a press conference at the IMM's building in Saraçhane concerning the "Istanbul Canal" controversy.
Setting out in fifteen points why he was opposed to the Istanbul Canal, which he described as a "Project of multiple betrayal to Istanbul," İmamoğlu said, "The Istanbul Canal is a project of betrayal, of decimation. Regardless of who has been promised how much graft, it must be abandoned at once. Istanbul is nobody's fiefdom."
Also explaining why they withdrew from the protocol, İmamoğlu said, "This protocol was unlawful and was signed by the IMM Mayor without an Assembly resolution." Further touching on the topography of the profiteering accompanying the project, İmamoğlu said, "The minister says land isn't changing hands. Land changing hands in this area since 2011 amounts to thirty million square metres. The first three companies with the greatest amount of land belong to Arabs."
"SIGNED WITHOUT OBTAINING ASSEMBLY RESOLUTION"
Explaining their withdrawal from the project in fifteen points, İmamoğlu countered Minister of Environment and Urbanization Murat Kurum's comment, "The IMM cannot withdraw from the protocol without an assembly resolution." Stressing that the protocol was in any case signed without an Assembly resolution, İmamoğlu said, "Since this protocol was signed by an appointed acting metropolitan mayor without there being an assembly resolution, it is by all accounts unlawful. The attempt was made to obtain a resolution by the Assembly two months after its signing. It is thus my duty to undo the unlawfulness. The minister's announcement yesterday ensues entirely from ignorance. The people told us on 23 June, 'Attend to the mistakes being made in this city and rectify unlawfulness.' And we are exercising the authority we derive from this. Istanbul is not without its champion."
CHARTING THE TOPOGRAPHY OF PROFITEERING: THIRTY MILLION SQUARE METRES HAS CHANGED HANDS - FIRST THREE COMPANIES WITH MOST LAND ARE ARAB COMPANIES
Using figures, İmamoğlu countered Kurum, who said with reference to the topographies made of the profiteering accompanying the Istanbul Canal, "We have not permitted land profiteering along the Istanbul Canal route. There is no case of picking up land by a citizen, an individual or a company." Saying, "Land changing hands in the area amounts to thirty million square metres," İmamoğlu commented, "The Minister of Environment and Urbanization should not speak like this. Land is said not to be changing hands but thirty million square metres has changed hands. We are curious as to why there is this interest in these areas that are agricultural zones. And, let me add that the first three companies with the most land are Arab companies. If the minister wishes, we can divulge this to him. If they want details from us, we will supply them."
"FIRST WORKSHOP IN JANUARY"
Indicating that they would conduct an Istanbul Canal and water workshop in January, İmamoğlu said, "We call out to everyone from here; we also call out to ministers. Oh, ministers, you are obliged to inform the people; not one person, the people, the people! Nobody can say "I've done it and that's that" in this city. Istanbul is nobody's fiefdom. Istanbul belongs to sixteen million Istanbulites and the Turkey of the eighty-two million. We will not permit this city to be betrayed.
İmamoğlu's objections to the Istanbul Canal in fifteen points are as follow:
1- THE ISTANBUL CANAL MEANS DROUGHT
The greatest danger the project poses is Terkos Lake permanently losing its quality as a water source through admixture with salt water. The Terkos Lake basin is a storage area for Istanbul and its environs. If the Istanbul Canal is built, above all else this splendid water source will be destroyed. Sazlıdere Dam will become fully functionless, just like the hastily closed Atatürk Airport. Just now the Sazlıdere – İkitelli system and Terkos in combination meet around 29 per cent of Istanbul's water needs. In fifteen years' time, in fact, they will meet the water needs of seven and a half million people. A 427 million cubic metre drinking water reserve is being destroyed. Not only the overground water reserves will be destroyed, but the underground water reserves, too. Salt water will penetrate the underground water through the cracks and breaks in the rocks. Thanks to this prospect, we face the risk of losing underground water that can be used in war and natural disasters.
In return for this, we will attain success, but who we will obtain it for is unclear. But we will obtain success in return for this very drought.
2- THE ISTANBUL CANAL WILL ENHANCE THE EARTHQUAKE RISK
Three fault lines pass through Küçükçekmece Lake. What can I say? Changes to such reports of a kind come that the government is also capable of saying "We have changed the fault line" overnight. The project falls within first, second and third-degree earthquake zones. The North Anatolia fault line passes at a distance of eleven kilometres and the Çınarcık fault line at a distance of thirty kilometres. Scientists say that the Istanbul Canal Project will disturb overground and underground balances. They say the overloading that will ensue from the construction will invite new earthquakes and heighten the intensity of earthquakes. According to the plan, a container port will be made involving 631,000 square metres of reclamation at Avcılar Sea Mansions that is the canal's Marmara entrance. This port is also at risk. It is asserted by scientists that a potential major Istanbul earthquake will create six-metre-high waves. That port will also become submerged by tsunamis, begging the question of why we are inviting disaster in full cognizance, by our own efforts and with our own budget.
3- THE ISTANBUL CANAL MEANS SLAUGHTERING ISTANBUL'S NATURE
I have also seen from what his excellency the President shows the people in an animated film that he uses the description, "Do you see? It's really great." Massive fifty or sixty storey skyscrapers line the canal. They speak of this saying, "Look how great it is." Once more concrete, once more profiteering, once more environmental slaughter. It will not be long before the edifices alongside the canal alter the heat-humidity-wind patterns and turn Istanbul into an island of heat. Since those who say, "We betrayed this city" have not actually at all observed this vital law, Istanbul is today plagued with nature-related concerns.
Thanks to the canal project, 23 million square metres of forested terrain and 136 million square metres of highly productive agricultural and forested land will be eliminated for all time. Marsh and bogland from Küçükçekmece Lagoon to Sazlıdere Dam will be destroyed. This is a migratory, breeding and resting ground for the birds of the region. The forest and marshland that will be destroyed is home to wild animals. If we do not stand up for everything from this city's fish to its birds and its wild animals to its plants, how can we remain alive? We cannot.
4- THE CANAL MEANS PLUNDERING ISTANBUL'S HISTORY
"Protecting the Bosporus's historic fabric" is cited in justification for the project. In the Environmental Impact Assessment Application File there is no annual increase in Bosporus traffic as is alleged but, on the contrary, a 22.46 per cent decrease has been observed particularly in the past decade. However, the project entails an impact on seventeen million square metres of conservation area. Be it the Bathonea Ancient City on the shores of Küçükçekmece Lake, be it the Yarımburgaz Caves, one of the earliest settlements in Istanbul, or countless more antique treasures, a colossal wealth of history will be devoured by the project. Why are you persecuting history and historic values?
5- THE ISTANBUL CANAL MEANS A NEW TAX BURDEN
The Istanbul Canal means a new tax burden of one hundred billion lira. I will double that and stand vindicated. Never mind the construction cost, people will even be shouldered with the cost of expropriating property belonging to private individuals.
With the country's economy on the skids to this extent, with half the country's population living at the poverty level, with unemployment soaring and with our university-educated youth seeking work everywhere and with you, while 25,000 people apply for one of the 420 jobs here, as a state having reached the point of reliance on high-value residence taxes resembling wealth tax, who are you kidding? You are embarking on these needless works at a cost of 75 billion as per the ministry's initial estimates and, in addition to this, the 23-35 billion cost you are imposing on the IMM.
6- THE ISTANBUL CANAL MEANS BURDENING THE IMM WITH 23 BILLION LIRA IN COSTS
Billions of lira in costs are imposed on just two IMM entities. Thanks to appropriations and road construction, the cost of the Istanbul Canal project for the IMM alone comes to figures expressed in billions, or in quadrillions in old money. This figure is somewhat more than fifty per cent of the IMM's 2020 budget. That is, you are imposing a payment equivalent to the minimum wage on each Istanbulite, a needless tax burden in the region of more than 5,000 lira on a four-person family.
7- THE ISTANBUL CANAL MEANS DREAMING OF INCOME
It is said, "The Panama Canal was made in Central America and the Suez Canal in Egypt. Those countries earned a lot of money from this. You do not want Turkey to earn."
The Panama Canal knocks 13,000 kilometres off ships' voyages. The Suez Canal takes 6,000 kilometres off ships' voyages. That is why ships pay for both canals and pass through those canals. What about the Istanbul Canal? Zilch.
The Istanbul Canal does not shorten ships' voyages but shortens Istanbulites' lives.
8- THE ISTANBUL CANAL MEANS DOUBLING THE TORMENT IN TRAFFIC FOR MILLIONS
The start of construction will see frequent closures to traffic of the TEM Motorway and E5. They are speaking of a six to seven-year construction process. There is no clarity as to the extent of the problems that will be experienced with Istanbul traffic. Also, the Istanbul Canal project brings with it an impact on the currently planned Mahmutbey-Esenyurt and Sefaköy – TÜYAP – Beylikdüzü metro lines. With it imperative for us to rapidly bring the metro to these regions, given the prospect of building two further metro lines that will make it easier for millions of people to get about, why do you see fit to torment millions in the traffic?
The cartoonists have angered me. Don't get me wrong. I respect your creativity. I mean, I am saying it is easy to convey this in cartoon form but doing it means imposing an ordeal on Istanbulites for no apparent reason. People are awaiting metro lines and given the prospect of making them, why are you bringing greater traffic torment to Istanbulites?
I thus call on God to bring you to your senses. Let six million call in unison on God to bring sense.
9- THE ISTANBUL CANAL MEANS FIFTY YEARS' WORTH OF EXCAVATION WASTE
It is a total mystery how much excavation waste will ensue from the carrying out of the Istanbul Canal project. Transport experts are unable to simulate this. Even under simulation, trucks collide with one another. We expect the excavation waste to amount to two billion cubic metres. Istanbul's annual capacity to deal with excavation waste is forty million cubic metres. The excavation waste that could materialize in fifty years in Istanbul comes from the Istanbul Canal alone. This waste will be carried by more than ten thousand earth-moving trucks. That is, a further ten thousand earth-moving trucks will join Istanbul's traffic every day. For heaven's sake, why are we doing this?
10- THE ISTANBUL CANAL MEANS A 1.2 MILLION HIKE IN ISTANBUL'S POPULATION
If Istanbul Canal is built, a population of a further 1.2 million will arrive at the new residential units to be constructed. This will not be restricted to 1.2 million. I said this would be two million but they did not listen to me. Thanks just to the project, 3.4 million new journeys will take place within Istanbul's traffic. This means an increase of at least ten per cent in Istanbul's traffic. Given the prospect of devoting our resources to solving this congestion that is choking this city, why are you endeavouring to saddle this city with fresh problems that will bring traffic to a complete standstill?
11- THE ISTANBUL CANAL MEANS IMPRISONING A POPULATION OF EIGHT MILLION ON AN ISLAND
A situation will emerge whereby a population of eight million will be imprisoned on the island to be formed between the Istanbul Straits and the newly excavated canal. By means of this reason-defying project, you are imprisoning eight million people in the region of the country most at earthquake risk. How will you ensure the safety of this population at the time of earthquake? How will you transport millions of Istanbulites elsewhere at that critical truly life-or-death moment?
How do you really expect us to say "yes" to this project?
12- THE ISTANBUL CANAL MEANS DREAMING OF MONTREUX
You base your premise on Montreux so let me set things out: the Treaty of Montreux is not negative, as is claimed. It is a treaty which protects Turkey and countries with Black-Sea shores. Do not forget that the Ottoman Empire entered the First World War because two German warships passed through the Straits and bombed Sebastopol. You see, thanks to this treaty, the Black Sea has been a sea of peace for virtually ninety years.
A naval fleet needed to start war cannot enter the Black Sea thanks to Montreux. If the Istanbul Canal is opened, this protective shield will vanish. The assertion that Turkey will earn from the canal is invalid under international law. It is an illusion. You may be dreaming, but our concern is with the truth. We have no concern along the lines of attaining success. The concern we have is bringing happiness to this country's people.
13- THE ISTANBUL CANAL MEANS DESTROYING BLACK SEA FISH AND FISHING
The construction of the canal will bring with it the disruption of a natural balance thousands of years in the making. Hydrologists say this. The amount of salt water in the Black Sea will increase and the natural balance will be disturbed. Fish will be destroyed in both the Marmara and Black Sea and fishing will come to an end. The Marmara will be replete with low-oxygen water and the entire Marmara will stink like the Golden Horn once did.
Küçükçekmece Lagoon's bed mud will also flow as it is into the Marmara's waters. I want to call out to all our citizens. With God having equipped our Istanbul with such beauty and balance, the sin of attempting to destroy this order he has created is one of great gravity.
14- THE ISTANBUL CANAL MEANS THE DESTRUCTION OF MORAL VALUES
According to a report that our Graveyards Directorate submitted, the canal project area will quite manifestly encroach on the Baklalı, Roman and Yeniköy Graveyards in Arnavutköy. So, people whose relatives are interred here will have to move these graves elsewhere. No people can treat their forefathers like this. Do not inflict this torment.
15- THE ISTANBUL CANAL IS SELF-ADULATION, NOT THAT OF THIS COUNTRY
The priority of those who decide on behalf of the public is the protection of the people's life and property and the protection of their sea, birds, agriculture and animals. With so many people unemployed and poor and kids unable to be fed adequately, our priority cannot be the Istanbul Canal. We will not permit the destruction of this venerable city's waters and natural environment. This project is in all its aspects a project of disaster, treason and decimation. In summary, we say, we really say, "Either the canal or Istanbul."
WHAT CAN BE DONE INSTEAD OF THE ISTANBUL CANAL
Having enumerated his objections to the Istanbul Canal, Ekrem İmamoğlu said in his press statement that at least nine more rail lines equivalent to Marmaray could be made instead of the Canal Project. Stating that all high-risk buildings in Istanbul could be remade with the money that will go into the project, İmamoğlu said, "This project is a project of multiple betrayal to Istanbul. As father of three Ekrem İmamoğlu, I recommend this whim be abandoned immediately."
"ISTANBULITES WILL DELIVER A LESSON IN DEMOCRACY THROUGH THE LAW"
İmamoğlu replied as follows when questioned about the referendum on the Istanbul Canal: "Istanbulites have opinions like never before. They say, 'Sit and mind your own business. We will attain success. What do you know about it?' We are minding our business and those who minded their business sedentarily have gone. In a state of mobilization, Istanbulites will settle the affair through the law and petitions. You will see. Istanbulites will deliver a lesson in democracy. To the question, "Is it feasible to carry out this project by sidelining the IMM?" he replied, "Yes, it is possible, but we will not permit contravention on their part. When I was elected they said they would deny it to me but I am well and truly here. So, there are sixteen million people and they have minds and consciences." (EVRENSEL DAILY)
(Translated by Tim DRAYTON)
No transportation project, graft and politics are behind Istanbul Canal!