Increasing dissatisfaction in teachers' rooms at schools in Turkey
Teachers we met up with in Ankara say they have become able to vent their reactions more freely on all issues, not least the crisis.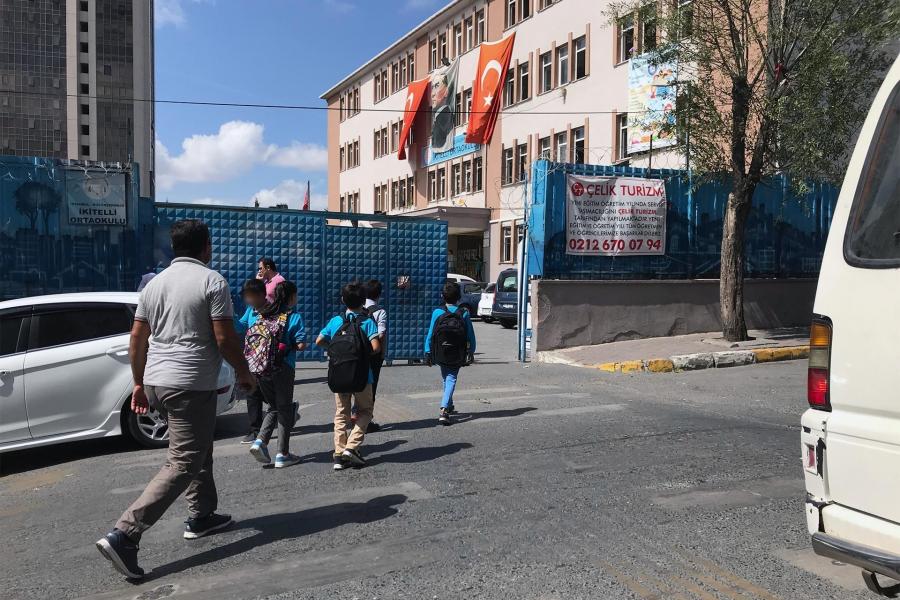 Şükran DOĞAN
Teachers we met up with in Ankara's Keçiören sub-province said fear had abated in teachers' rooms over recent years and it had been possible for reactions, even if watered down, to be expressed more loudly on topics ranging from the economic crisis to government policies. Teachers working at primary schools in working-class neighbourhoods point out that parents are now only able to put cheese and bread in kids' bags by way of meals.
With a whole host of problems added to the old ones as the new educational year starts, teachers, left to face these problems, are sorely missing what might be termed the "good old days." We met up with teachers working at different schools in Keçiören. They speak of the silence breaking and things starting to hum in teachers' rooms, especially since 2015. But, being public servants, they did not want to give their names. We chatted to the teachers about the word in teachers' rooms and what teachers were thinking about many issues relating to the country's major problems ranging from the state of schools to economic problems and from the Confederation of Public Servants Trade Unions' stance in the collective agreement process to the mothers waiting in front of the HDP.
"TEACHERS HAVE BECOME MORE QUESTIONING"
A high school teacher in Keçiören, noting that the internecine conflict in the AKP dominates daily talk at the school, says, "There's been far more questioning of late and, even if they don't come up with any solution, it's like they're waiting for a saviour, a hero. There are those who think salvation from the dreadful path the economy is taking will come with the departure of this government. But they are silent about how this is to happen." The teacher, pointing to the Confederation of Public Servants Trade Unions' stance vis-à-vis the collective agreement that was made in August, declares, "If this government goes, it looks like the members won't stick around in the Confederation of Public Servants Trade Unions, either. At the same time, the change of mayors instilled the hope that change is possible in people. I'm a member of the Education and Science Workers' Union and I think we've put the hardest times behind us. The future is more hopeful and now is the time to stand taller."
A vocational high school teacher says almost everyone at the workplace recalls the past saying "those were the good days." He works at a high school in Pursaklar, a sub-province with a high concentration of AKP voters. He speaks of what is driving teachers' thinking: "There's a crumbling away there even if it appears to be more gradual, and they hold back from speaking about it even if they say, 'I won't vote any more.'" Indicating that the mothers sitting in front of the HDP which is the main news on TV stations every evening attracts no comment or, if it does, the talk is of the mothers being used, the teacher adds, "There have been FETO-related expulsions at our school so such issues aren't talked about much."
"TEACHERS FOLLOW GOINGS-ON WITH CONCERN"
For her part, a woman high school teacher who serves at a school with a high concentration of women educators, talks of how hopes surrounding the Confederation of Public Servants Trade Unions were dashed in the collective agreement process: "The members of the Confederation of Public Servants Trade Unions are not all AKP supporters and they follow goings-on. They consider themselves well paid in a country in which unemployment is so high. But most of their kids are university graduates and unemployed."
"FEAR HAS ABATED COMPARED TO BEFORE"
In turn, a woman primary school teacher, noting that fear and concern among educators had abated compared to before and more relaxed conversations were taking place, says, "Previously, what an AKP supporter said was taken seriously and negative comments were not made about it; they couldn't be voiced. But now they look at whether what was said is correct or not. The local election results seem to have instilled confidence when it comes to them speaking and expressing themselves."
"THE DAY WOULD COME WHEN THEY SAID, 'I'M NOT A REAL CONFEDERATION OF PUBLIC SERVANTS TRADE UNIONS PERSON'"
A teacher who is actively involved in the Education and Science Workers' Union indicates that those who used to leave the room when trade union administrators came no longer do so and listen, even if in silence, said, "At one time FETOists in schools were full of themselves, then it became fashionable to say, 'I'm not a FETOist.' A bit later they would then say, 'I'm not a real Confederation of Public Servants Trade Unions person.' The basic task is for us to take this process forward correctly."
IT HAS REACHED THE STAGE WHERE PARENTS CANNOT PROVIDE A MEAL
The effects of the crisis are seen more starkly at schools in neighbourhoods with large working-class populations. A primary school teacher working in Ovacık says it has reached the stage at which parents cannot put a meal in their kids' bag.
A high school teacher goes on to give the following account of the difficulties being experienced at schools: "Class numbers have risen to as much as 35-40 in middle schools. Close to 50 is not unheard of. There is education in shifts and lessons continue until 7.30 pm. The middle school and high school educational programmes are in disarray and parents as a whole are complaining profusely. Most kids now only have cheese and olives in their meal bags. There has been an increase in the number of parents who ask, 'Can we get them to use last year's notebooks?' Parents are giving freer expression to their complaints. Educators, though, are speaking with greater restraint."
(Translated by Tim DRAYTON)