Ekrem İmamoğlu in Diyarbakır: We will struggle together against non-democratic circles
Describing the appointing of trustees in place of elected mayors as "heedlessness and debasement," Ekrem İmamoğlu said, "We will struggle together against non-democratic circles."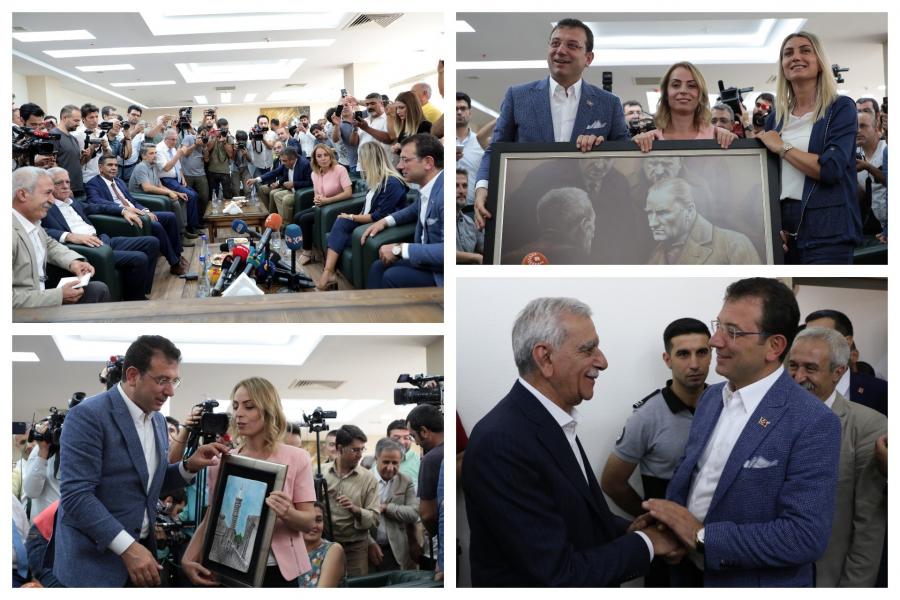 Fırat TOPAL
Diyarbakır
Istanbul Metropolitan Mayor Ekrem İmamoğlu visited his party's provincial directorate while in Diyarbakır. Saying he had come to Diyarbakır so as to attend a wedding in Batman, İmamoğlu criticized the ousting of three mayors.
Amedspor supporters were among those waiting at Diyarbakır airport to greet İmamoğlu, who had difficulty getting into his car due to the crowd. Proceeding to his party's Diyarbakır provincial directorate, İmamoğlu made a statement here about the co-mayors who had been removed from their posts and had had trustees appointed in their place by the Interior Ministry.
Staging a press conference along with CHP Diyarbakır Provincial Chair Mehmet Sayın, İmamoğlu said, "Diyarbakır's warm welcome made itself felt with all its warmth at the airport. I was honoured. Before the election, one of our young people said on social media, 'I'm coming to work on the campaign and I'm postponing my wedding for this. After the election, I want to hold the wedding together with you.' I then gave him my word. I said I would most certainly attend the wedding. A trip of this kind was planned. I wished to pass through Diyarbakır and convey my greetings. This journey has assumed different meanings apart from the wedding, too."
Describing the appointing of trustees in place of elected mayors as "heedlessness and debasement," İmamoğlu recalled the 31 March Istanbul elections: "Setting out to implement different rules is unacceptable. Unfortunately, the discriminatory approach to the Diyarbakır, Mardin and Van mayors and voters has distressed us all. We will struggle together against non-democratic circles."
STRESS ON DEMOCRACY AND THE SUPREMACY OF THE LAW
Recalling the 31 March and 23 June Istanbul election process, İmamoğlu said, "We lived through this election process. A very important election was experienced in Istanbul with regard to Turkey's democracy. Its being in two rounds imbued it with a different meaning. Our citizens and the whole of our society proved their sense of standing up for democracy in Istanbul. Whether they voted or not, everyone struggled for democracy. At the end of the day, democracy won in Turkey. There are very basic concepts on which we have constructed our state and national unity. The republic, democracy, supremacy of the law and national will. Hollowing out these concepts is one of the greatest evils that can be conducted against our state, national unity and democracy. There is a history in Anatolia under occupation a century ago."
"SINGLING OUT SOME OF THE ELECTED IS DANGEROUS DISCRIMINATION"
Stating that the government saw itself as being superior to the national will, İmamoğlu commented, "We are citizens, not of a family, group or moiety, but of a country that has paid prices to be governed in accordance with the national will. Those who see themselves as superior to the national will will pay the price in the heaviest way for this at the ballot box. It is unfortunately heedlessness and debasement to appoint trustees in place of elected mayors and the public conscience. There is neither democracy nor does supremacy of the law remain in a place where those who came through election do not go through election. The will of the citizen that arises through the ballot box is not a will to be deemed invalid. If there is a need to struggle together to remove the barriers to citizens' free exercising of the right to vote and be elected and against these circles, the non-democratic circles, we must stand up for democracy and the national will. The rulers of this country must concede that 82 million citizens inhabit this country and rule the country with this in mind. All votes cast at the ballot box, regardless of who for, are valid to an equal degree."
Stressing that discrimination must not be made among the elected, İmamoğlu declared, "All the elected who derive their authority from the ballot box have equal rights and powers. It is unacceptable to single out and apply different rules to certain of the elected. The stance towards the Diyarbakır, Mardin and Van metropolitan mayors and electorate displays just such discrimination."
23 JUNE REMINDER
İmamoğlu continued his assessment of the ousting of the HDP mayors and the appointing of trustees in their place as follows: "Political parties and their administrators, members of parliament and mayors are either within the law or outside it. The authority that will pronounce definitively on this is the judiciary. They have made customary a policy that sometimes accepts certain parties as being within the law and sometimes brands them as being extralegal structures. Let them, too, note full well that no good or benefit for our country will come from policies to save the day. It is unacceptable for those who emerge from the ballot box based on the will of the people to be above the law. Each of the elected are citizens. They are obliged to be subject to the law. They must secure the acceptance of the judiciary and society for their allegations that members of parliament and mayors went outside the law. The judiciary will pass this decision. I wish once more to give reminder of the reply that was given to removals from office when society's conscience did not permit this, of the days of 23 June. The authors of the lies and aspersions that were cast on 31 March today stand in shame at their words. If they themselves are not ashamed, their parties and spouses are humbled on their behalf."
"TRUSTEESHIP IS A CONTINUATION OF THE WASTEFULNESS ARRANGEMENT"
Noting that trusteeship was a continuation of the wastefulness arrangement, İmamoğlu said, "Be it Istanbul or Diyarbakır and whichever of this country's legal parties, whoever this nation has appointed, we cannot change this in any way. We are obliged to openly say no in unison to this injustice and lawlessness. Otherwise, we will be unable to create a fair society. This is the struggle for justice and democracy. This is the struggle to preserve the will of the people. We have experienced in unison how society reacts to this when will is eliminated. This is the struggle to stand up together for the republic and democracy. This state's sole proprietors are the 82 million equal and free citizens of the Republic of Turkey. What is paramount is the citizen's honour, esteem and happiness. Political parties are means for bringing this about."
Stressing that they would not abandon the struggle for peace and freedom, İmamoğlu noted, "We will continue to defend the values of the republic and democracy in all arenas without getting embroiled in any fanaticism, being afraid or becoming cowed. We will not permit our country's unity and togetherness to be troubled in the period in which our republic matures. We will not at any time cease the quest for peace and freedom. The common sense of the people of the country and their desire to live together and in peace is a force that will vanquish oppression and discrimination. I have experienced this at its best. Wealth of heart is superior to wealth of all kinds. I regard the world with a distinct hope."
"EVERYONE MUST STRUGGLE"
Responding to a question about his opposition to the appointing of trustees, İmamoğlu said, "Everyone must wage struggles of all kinds within the ambit of the law. This is civic responsibility. This is not a struggle that these people, parties or chairs will wage alone. There is resoluteness and a struggle is being waged against the wrong that is being done. We must further this by all legal means. We must continue to say this in all settings. Freedom, peace, democracy and the republic are like a breath for all of us. I felt how breathless we had become in Istanbul. Just making democracy prevail in one city does not amount to making it prevail in the country. If it is to prevail as a whole, it must prevail in Mardin, Van, Diyarbakır, Istanbul and İzmir."
"THE SOLE CONCERN I FEEL WILL BE ON BEHALF OF DEMOCRACY"
İmamoğlu replied as follows to a question about Tayyip Erdoğan's trustee threats: "The sole concern I feel is on behalf of democracy. I am not one to feel concern about myself. Having the name Diyarbakır or elsewhere is not important. As one who has gained the feeling of having the will of the people behind him, we will continue to do our job as best as possible and struggle to bring wellbeing to the city. There is zero concern for myself. I feel concern on behalf of democracy."
İMAMOĞLU SPOKE WITH OUSTED CO-MAYORS
Following the press conference, İmamoğlu visited Tahir Elçi's grave. From there he proceeded to Kayapınar Municipality and spoke with ousted Diyarbakır Metropolitan Co-Mayor Selçuk Mızraklı and Mardin Metropolitan Co-Mayor Ahmet Türk.
Speaking at the meeting, İmamoğlu said, "The coup inflicted on us, Turkey and democracy on 31 March has provided the opportunity to unite, meet and sense one another. I think every difficulty will present us with an opportunity. I think this has led the way, not to a political fusion, but to a meeting on the point of rights, the law and justice. We must wage an intense struggle in the interests of solidifying this fraternity. This voice of ours is not a voice we have made heard to the people of Diyarbakır. We will make this voice heard to Istanbul, to the Aegean and to the Black Sea, to the 82 million. The reason we are here is to be of strength to you. They need to revert from this error at once. The injustice done to you has been done to the people's democracy."
Speaking following İmamoğlu, Selçuk Mızraklı remarked, "We will walk together for tomorrows in which society's unison not polarization strengthens. Your coming here is of value to us."
For his part, Ahmet Türk commented, "We must come together under democratic values. We have been waging the struggle for democracy for years. They are trying to divide society and continue their rule. There are examples of this in the past. This is the way we see things stack up in Turkey. We may be in different places politically, but we must struggle for the future of our peoples and shared democracy. We have reached a point that is now intolerable. We say that solidarity and unison is important."
Following their speeches, Kayapınar Co-Mayor Kezban Yılmaz presented Ekrem İmamoğlu with a painting of the four-footed minaret. İmamoğlu then presented Yılmaz with the "Atatürk listening to a villager" painting.
(Translated by Tim DRAYTON)
Istanbul will get a trustee, too, unless the anti-trustee struggle grows
Joint statement from EMEP, ÖDP, HE and TİP: The single-man regime is the name of the usurpation of will
Continuous action against trustees as HDP forms "Central Coordination"
Political scientists assess the trustee coup: Solidarity for democracy is a must
Trustees again: Erdoğan and his government's standoff against the people
Appointing of trustees in Diyarbakır, Mardin and Van municipalities protested in many provinces