TÜPRAŞ workers closure in refineries in Batman, Kırıkkale, Kocaeli and Aliağa
Following the stalling and failure of collective labour agreement negotiations between TÜPRAŞ workers and Koç Holding due to the boss's ultimatums, workers have taken closure action in refineries.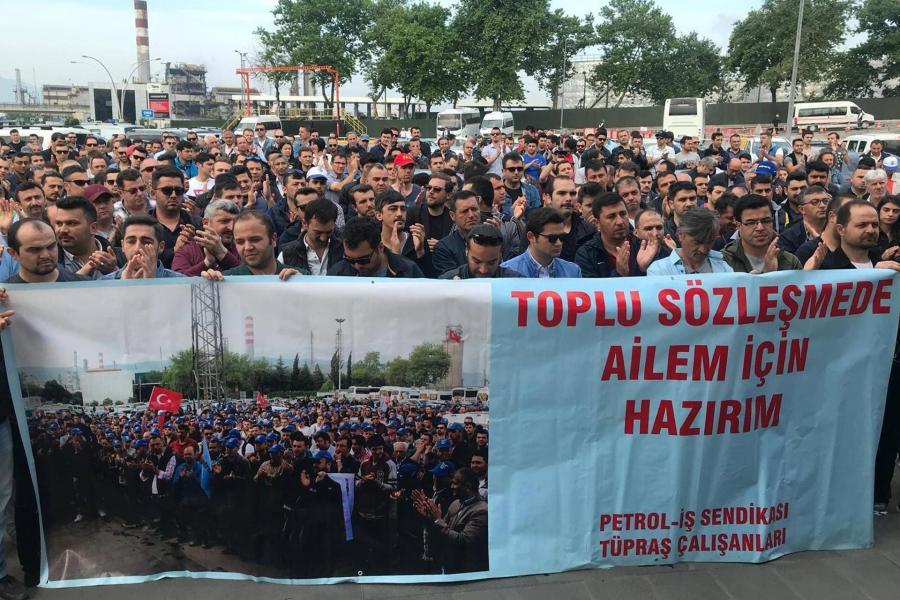 Photograph: Petrol-İş Trade Union
TÜPRAŞ workers, whose collective labour agreement negotiations have stalled due to Koç Holding's ultimatums over three articles and who have gone to the Supreme Arbitration Board, have taken action resulting in refinery closure.
Following protests in front of Koç Holding Head Office with participation from four refineries, TÜPRAŞ workers, who have been protesting in front of refineries for months in opposition to the boss's ultimatums in collective labour agreement negotiations, took action today in which the refineries in Batman, Kocaeli, Kırıkkale and Aliağa were closed. As of 16.00 hours, some 4,300 workers took action involving the closure of the refineries and not leaving the workplace. The workers urged Koç Holding, which wishes to change the shift system, excused absence and the duration of contracts, to accept their demands.
"IF THE CONTRACT ENDS AT THE SUPREME ARBITRATOR, A NEW PROCESS OF STRUGGLE WILL COMMENCE"
Today worker members of the Petrol-İş union remain in action to the accompaniment of dances and song. Speaking at the action here, Petrol-İş Batman Branch Chair Şehmus Kaygusuz said, "We warned management. We said let's complete this contract at the table. We said there can be no labour peace at a place where there is no harmony. But they didn't want to understand us. We're afraid neither of the supreme arbitrator nor the strike ban. We'll take the struggle forward like we have until today. We once more urge the mentality that wants to usurp our rights: come and let's complete this contract together. If this process ends on Tuesday at the supreme arbitrator, a second process of struggle will commence."
"EVERYONE FROM THE SUPREME ARBITRATION BOARD TO THE CRONY MEDIA LINES UP WITH CAPITAL"
Subsequently taking the rostrum, Petrol-İş General Organization and Training Secretary Mesut Tekik in turn commented, "Like you, our 3900 class colleagues have not left their workplaces in Kocaeli, Kırıkkale and Aliağa. The employer wants to strip our contract of its soul. The employer has been trying to secure our surrender for months. We know there are certain institutions from which the employer draws strength. Everyone from the Supreme Arbitration Board to the crony media lines up with capital. But the hearts of forty million people in Turkey who subsist from their labour are beating for you. We are here for the duration. From here in unison, we salute the entire Turkish working class from Hakkari to Edirne." (EVRENSEL DAILY)
The nose-in-the-air company and the workers who pay no homage
Bosch workers: Nobody believes the AKP's allegations for rerunning the election
Workers fighting for trade union rights enter Eid in struggle
Turkey's 500 largest industrial entities announced, the biggest exploiters head the list
Unionisation rate and workers' movement in Turkey, with facts and figures