Bereaved Soma Mine Massacre families: We'll bring justice from under the rubble
Commemorations were held in many places, not least Soma, to mark the fifth anniversary of the Soma Mine Massacre. The bereaved families called for justice.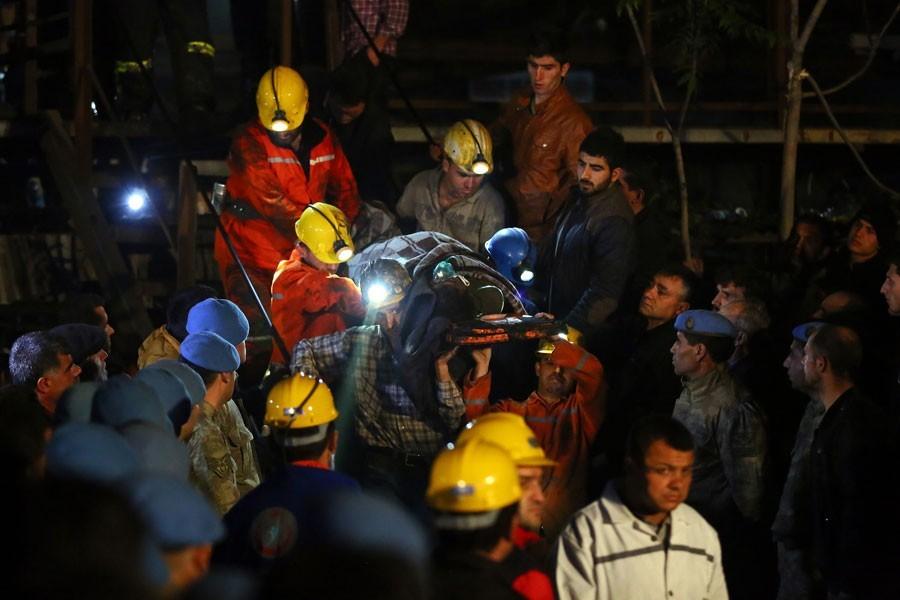 Photograph: Emin Mengüarslan/AA
On the fifth anniversary of the Soma Massacre, the largest carnage of workers in Turkey's history, the miners who lost their lives were remembered. The process that began with the death of 301 miners and ended with the release of the responsible boss laid bare the pro-capital leanings of the government and judiciary. In reaction to the massacre and the ensuing legal process, the families congregated in front of the Soma 301 Miners Association and marched to the Miners Memorial. A press statement was held in front of the memorial following the march.
İsmail Çolak, who lost his son Uğur Çolak in the massacre, read the statement. Saying that the relatives of the 301 miners, who for five years had not abandoned their quest for justice despite all the fobbing off and inequities, were back in the open spaces, Çolak started his address by greeting the parliamentarians who had carried their demands into parliament, the lawyers who had supported the families in the course of the legal proceedings and especially detained Contemporary Jurists' Association General Chair Selçuk Kozağaçlı.
Recalling the words of Energy Minister at the time, Taner Yıldız, in the aftermath of the massacre, "Whoever has fault and guilt, even if they are my father's son, will give account before the judiciary," Çolak also recalled how President Erdoğan, prime minister at the time, tried to portray the massacre as being natural by saying, "Deaths of this kind are the miner's fate and the miner's lot."
AWARD-LIKE PUNISHMENT
Pointing out that there had not been a fair trial in the intervening five years, İsmail Çolak said, "Over the trial that started on 13 April 2015 a full eleven months after the massacre and in which judgment was reached on 11 July 2018, we encountered a considerable number of impediments from the political rulership."
Noting that, as if this were not enough, recent days had seen the release of the number one defendant in the trial, boss Can Gürkan, under a pro-capital ruling, Çolak said, "On top of this, the court gave him a present. It also restored the authorization to operate the mine that had been revoked for several years."
Indicating that this ruling had paved the way for fresh massacres, Çolak said, "The ruling has confirmed that the judicial system in Turkey is on the side of the powerful and rich, and justice is yet again trapped under the rubble. What needed to be done for the mineworkers after the massacre was not. We know that temporary solutions will not prevent fresh deaths. We also know that inspections will remain inadequate as the responsible inspectors were not prosecuted. Miners, spending their lives underground to bring home bread, continue to put their lives on the line at work."
QUASH THE RULING AND PASS A JUST JUDGMENT
İsmail Çolak continued as follows:
"The Soma Massacre trial has moved to the Court of Cassation. We want the Court of Cassation to quash the award-like ruling handed down to the murderers and to pass a just judgment having reheard the case. We, the families of the 301 miners, will fight until justice is done. We want them to receive the stiffest penalties for the 301 souls we have lost. To this end, we expect them to impose sentences for eventual intent. Let this be done so that those responsible do not see the light of day and new massacres are prevented. We have not forgotten and will not forget the 301. The day will come when everyone needs justice."
Following the statement, the families visited their relatives' graves and left carnations. (EVRENSEL DAILY)