Lawyers march in their robes on Day of the Endangered Lawyer
"Defence will not fall silent," said lawyers marching in their robes in Taksim to mark "24 January Day of the Endangered Lawyer."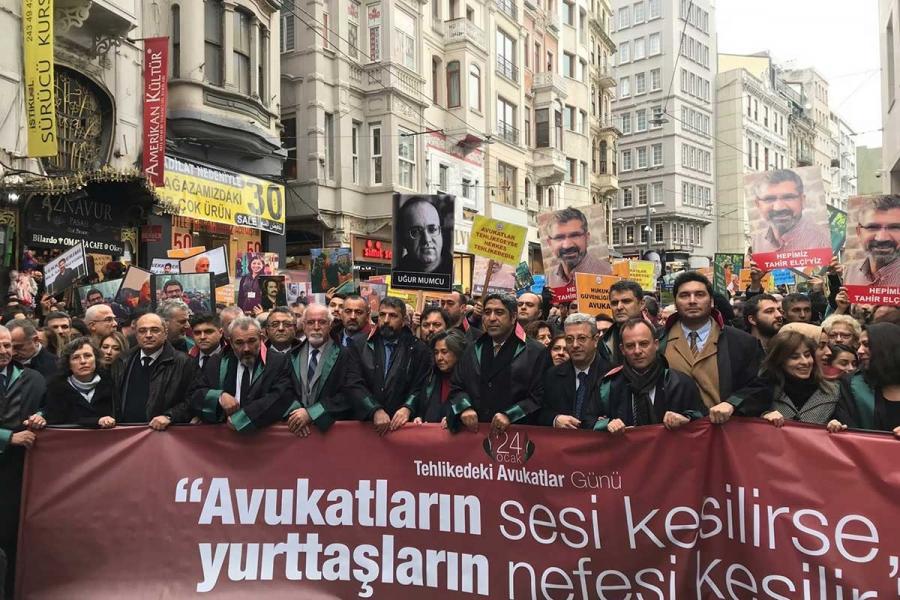 Photograph: Cansu Pişkin/Evrensel
A protest action spearheaded by Istanbul Bar Association to protest attacks on Turkey's lawyers and to display solidarity was held on "24 January Day of the Endangered Lawyer." The lawyers marched in their robes saying, "Defence will not fall silent."
24 January was first marked as the "Day of the Endangered Lawyer" following the murder of five lawyers in Madrid by Franco supporters on 24 January 1977. The day, which is dedicated each year to a country in which the defence profession is at risk, was this year dedicated for the second time to Turkey. Lawyers assembled in Galatasaray Square at the behest of the Istanbul Bar Association and held a protest action to protest attacks on Turkey's lawyers and display solidarity. The action saw lawyers march from Galatasaray Square to the Istanbul Bar Association with the participation of the chairs and representatives of Adana, İzmir, Aydın, Bursa, Mersin, Ankara, Hatay and Diyarbakır Bar Associations.
Alongside legal professionals and journalists, HDP parliamentarians Filiz Kerestecioğlu, Ahmet Şık and Musa Piroğlu, CHP parliamentarian Sezgin Tanrıkulu and former CHP parliamentarian Barış Yarkadaş joined the march. Carrying photographs of their colleagues who had been killed or detained, the lawyers chanted the slogans, "Defence has not and will not fall silent," "No salvation alone; either all together or none of us," "Revolutionary lawyers are our honour" and "Tahir Elçi is our honour" for the duration of the march.
"WE WERE TAHİR ELÇİ AND WERE MURDERED"
Following the march, a press statement was made in front of Istanbul Bar Association where a banner reading, "If lawyers' voices are choked, the citizens' breath is choked" was displayed. Istanbul Bar Association Chair Mehmet Durakoğlu was the first to speak in the statement. Pointing out that no time space had been experienced in which lawyers were in danger to this extent throughout Turkey's legal history, Durakoğlu commented, "With what we were living through in any case on a most painful course, we became the first target of the state of emergency to come in their wake. We were threatened, beaten up, thrown out of hearings and detained as we resisted the annihilation of the right to defence that was being restricted under decrees with the force of law; even more, we were Tahir Elçi and were murdered. That day beneath the three-pillared minaret we lost one of the three pillars of the judiciary."
"IF LAWYERS' VOICES ARE CHOKED, THE CITIZENS' BREATH IS CHOKED, TOO"
Describing how lawyers had in the past few years received death threats in courtrooms and had been removed by police force from the judicial complexes that are their working spaces, Durakoğlu said, "If we surrender, we will surrender justice. We announce to the whole world from here that we will not bow to any pressure. Threats will not succeed in intimidating us. We will never be cowed. Because we know that, yes, lawyers are the breath behind the voice but, if lawyers' voices are choked, the citizens' breath is choked, too. We will not be silent. We are lawyers and will be needed by everyone one day." Durakoğlu ended his speech by commemorating journalist/writer and legal professional Uğur Mumcu, who was murdered on 24 January 1993.
DETAINED PEOPLE'S LAW OFFICE AND CONTEMPORARY JURISTS ASSOCIATION MEMBER LAWYERS GO ON HUNGER STRIKE
Following Durakoğlu, bar association chairs who had come from all corners of Turkey spoke. Adana Bar Association Chair Veli Küçük said that the People's Law Office and Contemporary Jurists Association member lawyers who were in detention in Silivri prison had started a hunger strike as of that day against the injustices and illegalities they were experiencing. Küçük said, "We learnt today from our colleague Selçuk Kozağaçlı and our other detained colleagues whom I visited along with our Mersin Bar Association Chair that they had gone on hunger strike. I salute with respect the hunger strike they are staging heedless of their bodily integrity to protest and raise their voices against the single-man regime and police state practices that are currently being experienced in our country. I as one of your colleagues who has until now been tried and acquitted in two cases once more cry out against illegalities. Defence has not and will not fall silent."
"SHAME ON WHOEVER IS THE CAUSE OF THIS DAY BEING DEDICATED TO TURKEY"
Subsequently taking the rostrum, Aydın Bar Association Chair Gökhan Bozkurt commented, "If today there are Lawyers' Rights Centres at bar associations, shame on this whole system that has given rise to them being set up. Shame on whoever is the cause of 24 January Day of the Endangered Lawyer being dedicated to Turkey today. Shame on whoever strews garbage in front of us because we held a tiny march to seek our own rights as lawyers. We have seen my colleagues abused and arriving handcuffed at courts for their insistence in court corridors on the hallowed right of defence being fulfilled and the right to a fair trial being exercised. If we have discomforted you, the discomfort we have given is the struggle of people in quest of their rights. This is an honour for us."
"THE STRUGGLE WILL NEVER END"
Saying that lawyers had paid the price throughout history, Bursa Bar Association Chair Gürkan Altun declared, "In Bursa over the past thirty years, we have seen lawyers being beaten under police torture, for the acts of their clients and in front of the citizenry. We are a bar association that at the Bursa Bar Association of the 12 September coup told those who said, 'There is a photograph of Mehmet Cengiz; take it down' 'We lack the power, you come and take it down if you've got the balls.' This struggle will never end until the final lawyer takes off their robes." Noting that no progress had been made in the Tahir Elçi case for a period of more than three years, Diyarbakır Bar Association Chair Cihan Aydın said, "We call out to all bar associations. We want to hear your voices more strongly at our side. The case of Selçuk Kozağaçlı and his colleagues is basically one of the matters that warrants discussion. It is not only lawyers who are endangered every day - the rights defenders of the Turkish Medical Association who say war is a popular health issue are endangered."
"WE WILL CONTINUE TO SPEAK UP"
Hatay Bar Association Chair Ekrem Dönmez spoke as follows: "We have been present throughout the history of Turkey and will continue to be present from now on. We come as a breath here, in courtrooms and everywhere where our citizens need us. We will continue to speak up for this." Speaking of his longing for the rule of law, İzmir Bar Association Chair Özkan Yücel went on to say, "People are being arrested and detained and are having their voices silenced for stating what they think, for seeking rights and for their social media posts. They want us to be silent and they want us to be good children. Even if we are killed, there is no finishing us off." Edirne Bar Association Chair Alper Pınar indicated they would implement the supremacy of the law until the end. The last to speak, Gaziantep Bar Association Chair Bektaş Şarklı, said, "We as lawyers have become Tahir Elçi and have given up our lives. We will continue at all times to speak up for rights and freedoms. We are the defenders, we are lawyers and we will never be silent. We will be Tahir Elçi, we will be Selçuk Kozağaçlı until overcoming this." (EVRENSEL DAILY)