Romanian finance workers fighting for their future
The Romanian Federation of Trade Unions of Insurance and Banking Workers (FSAB) has started a campaign to regain the sectoral bargaining rights.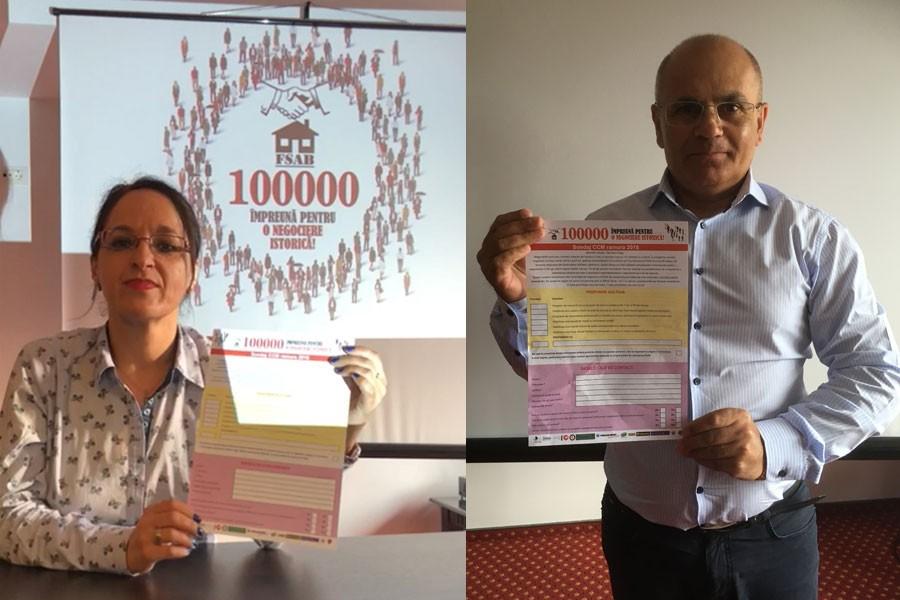 Müslime Karabatak
Predeal
The Romanian Federation of Trade Unions of Insurance and Banking Workers (FSAB) has started a historic campaign to regain the sectoral bargaining rights lost in 2011. Paraschiv Constantin, The President of FSAB, states that 'Created in 2002, FSAB has over 13,000 members out of 100,000 employees of the finance sector. FSAB has developed a sectoral strategy to deal with the sectoral issues such as long hours, low wages, lack of lunch break, etc. The main aim of this strategy, in the long run, is to gain a sectoral collective bargaining.'
The shop stewards coming from different banks all around the country attended the trade union organising training given by Erkan Ersoy, the Director of Organising Europe of UniGlobal Union in Predeal on 10- 24 April. The first step of this campaign is to start a survey to test and identify the sectoral issues. To engage the workers in the decision-making process right from the beginning, and also to establish a clear mandate for the negotiation table is other main aims of this survey.
Constantin says that after the survey, they will escalate the level of pressure on the employers with other collective actions. 'We are convinced that our strategy will bring results and we will have a sectoral collective bargaining which will add more to the current rights of the employees. Last but not least, FSAB will be strengthened by recruiting new trade unions in the sector.'
According to Ersoy, one of the key shortcomings of having an enterprise bargaining is being limited to the low level of collective consciousness and workers' only thinking within the limits of their working places. 'This campaign will also overcome this limitation and help to build a higher level of collective consciousness. Trade unions must actively strategize to increase the level of collective consciousness among the workers in every single sector. Aiming to improve pay, terms and conditions at a sectoral level, creating fair, equal and more democratic societies.'
'A strong union is for the benefit of each employee'
We also had a chance to talk with Victoria-Florina Antal, one of the shop stewards of FSAB, about their campaign after the training.
Tell us about yourself please. How long have you been working in the finance sector? How did you decide to be organized in a union?
Antal: My name is Victoria-Florina Antal. I finished Academy of Economic Studies in Bucharest 22 years ago and since then I have been working in the banking sector. After working in Bancpost for 10 years and in UniCredit Bank for 2 years, I have been working in BRD for 10 years. I am a relationship manager, I give advise to the firms. Although our job requires a good organization, good computer skills, high level of empathy to the clients' needs, we are faced with many issues like low wages, unpaid extra hours, high targets and high pressure to achieve them.
The first union I joined as a member was "The Trade Union Impact" in 2008. I believe that a strong union is for the benefit of each employee; so that was my reason.
As FSAB, you started a campaign for a sectoral collective bargaining. Why did you decide to start this campaign?
Antal: There is a decrease in salaries in the banking sector comparing to other sectors like IT, public sector, etc. Also, the banks will announce the measures of reorganisation with the introduction of digitalisation in the near future, which will have a huge impact on the existing jobs. These are all sectoral issues which we need to solve sectorally.
You have attended the training given by UniGlobal Union for this campaign. What did you learn throughout these training?
Antal: The training was extremely interesting and practical. I learnt the techniques of organizing and recruiting members, how to use mapping as a working tool, and how to approach and convince employees to participate in union actions and join in the union. We made role-plays to convince members/non-members to join us in the campaign and to tell them effectively the importance and necessity of a sectoral collective agreement.
You already started a survey among your colleagues. What are your main aims of this survey?
Antal: We want 80% and more participation rate in the survey in our bank. We would like to find out what are the main issues and their priorities in our bank and the other workplaces. Of course, we are also willing to recruit new members in our union throughout this survey.
Do you think you will achieve your goal and get a sectoral collective bargaining?
Antal: I hope with all my heart… I liked the comparison that Erkan Ersoy made in the training: "You can't move a rock on your own, but a group of you can." So, I know that we will achieve our goal only if we will be well-organized, determined, committed and united.
As I mentioned during the training, I want a sector collective agreement for the future of our children. So that they will stay in our country after their studies. For example, my son wants to pursue a career in the banking sector, therefore I am also fighting for him and all other future workers in this sector.