Erdoğan and Trump discussed developments in Syria
The US will stop supplying arms to YPG, President Trump told Erdoğan according to Ankara but White House only talked about 'adjustments to partners'.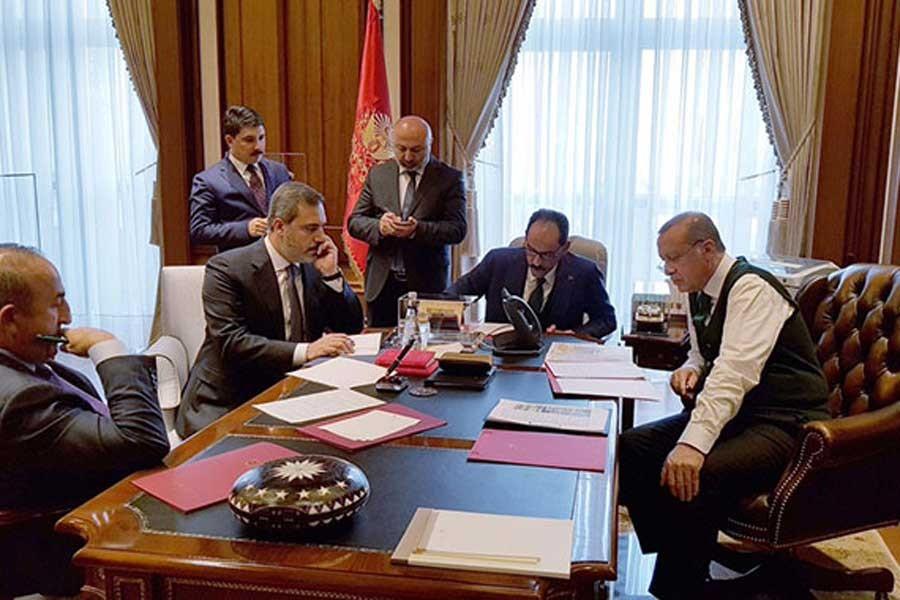 Turkish President Tayyip Erdoğan and US President Donald Trump discussed recent developments in Syria, bilateral ties and a summit in Russia's Sochi during a phone call on Nov. 24.
ANKARA: US TO STOP ARMING YPG
Foreign Minister Mevlüt Çavuşoğlu said President Donald Trump had made the promise in the phone call to his Turkish counterpart, Tayyip Erdoğan.
Çavuşoğlu said; "President Trump instructed [his generals] in a very open way that the YPG will no longer be given weapons," and added; "Mr Trump gave his assurances after President Erdoğan reiterated his concern over the continued supply of weapons and armoured vehicles to the YPG."
WHITE HOUSE: WE'LL MAKE ADJUSTMENTS
Despite the statements of Çavuşoğlu, The White House said it was making "adjustments" to its support for partners inside Syria but did not explicitly name the YPG.
"President Trump and President Erdogan underscored the need to end the humanitarian crisis, allow displaced Syrians to return home, and ensure the stability of a unified Syria free of malign intervention and terrorist safe havens.
President Trump also informed President Erdogan of pending adjustments to the military support provided to our partners on the ground in Syria, now that the battle of Raqqa is complete and we are progressing into a stabilization phase to ensure that ISIS cannot return. The leaders also discussed the purchase of military equipment from the United States." said the statement released by the White House.
Turkey has long complained about US support for the YPG. Washington has viewed the YPG as a key player in the fight against ISIS, but Ankara brands the group's fighters as terrorists.
Turkey says the YPG is as an extension of the Kurdistan Workers Party (PKK), a group it has been fighting for decades in south-eastern Turkey.
The US, however, has seen the YPG as distinct from the PKK. In May it announced it would supply arms to the Kurdish elements of the Syrian Democratic Forces (SDF), which were poised to drive ISIS from its stronghold of Raqqa. It had previously armed only Arab elements of the SDF. (EVRENSEL DAILY)
Developments that are components US' strategic