Barcelona van attack: At least 13 dead, 100 injured
Hours after van killed 13 people and injured 100 in Las Ramblas, seaside town Cambrils hit by second vehicle attack, leaving seven wounded.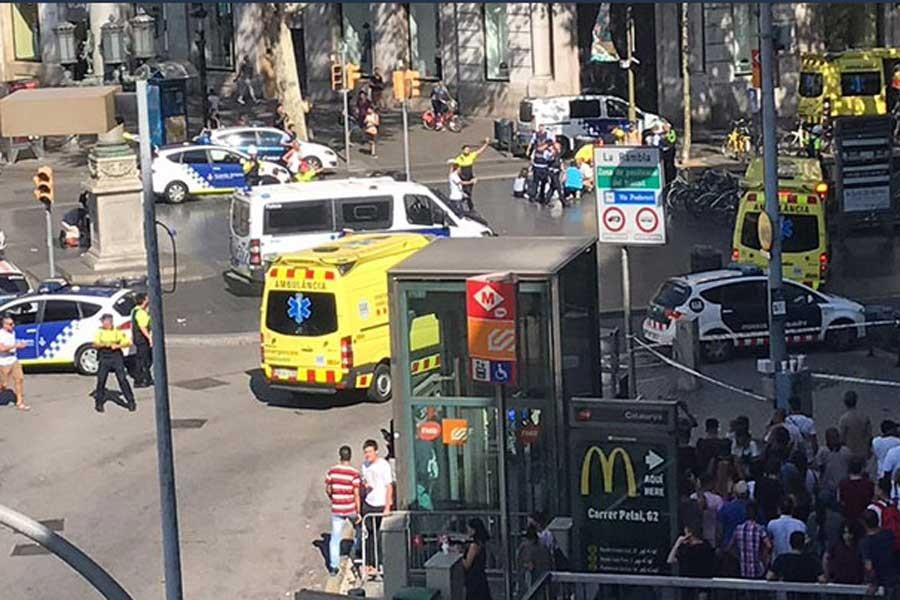 At least 13 people are dead and more than 100 injured after a van was driven into pedestrians on Barcelona's Las Ramblas.
Police last night made two arrests and said the incident was being treated as a terrorist attack amid reports another attacker had been shot dead.
Eyewitnesses spoke of "unbridled fear" after the Fiat van crashed into crowds and swerved from side to side on the iconic thoroughfare popular with tourists yesterday afternoon.
There was panic in the hours that followed amid reports gunmen were holed up in a bar in the city centre and had taken hostages.
However, the reports were later dismissed by police who released a photograph of Moroccan-born Driss Oukabir, who is alleged to have hired the van used in the attack. It is unclear whether he is one of those arrested.
According to the latest data 13 people have died and 119 have been injured including the citizens of France, Germany, Spain, the Netherlands, Argentina, Venezuela, Belgium, Australia, Hungary, Peru, Northern Ireland, Greece, Cuba, Macedonia, Italy, Romania and Algeria. Death of a citizen of Belgium has been officially confirmed.
The law enforcement bodies said the incident was a terror act. The fighters of "Islamic state" assumed responsibility for the attack.
Two suspects have been detained: a citizen of Macedonia and a resident of Melilia. Neither of was a van driver who has escaped.
SECOND ATTACK IN CAMBRILS
In the seaside town Cambrils, seven people, including a police officer, were wounded when a car was driven into them early on Friday, Catalan emergency services said. One person is in a critical condition.
Spanish media reported that the attackers' vehicle overturned and when the men got out they were quickly fired upon by police.
A series of controlled explosions was then carried out.
Police say the situation in Cambrils - a popular seaside resort to the south-west of Barcelona - is now under control. (EVRENSEL DAILY)