Seven Cumhuriyet employees released while five will remain under arrest
A court in İstanbul has decided to release seven employees of Cumhuriyet newspaper while five remained jailed.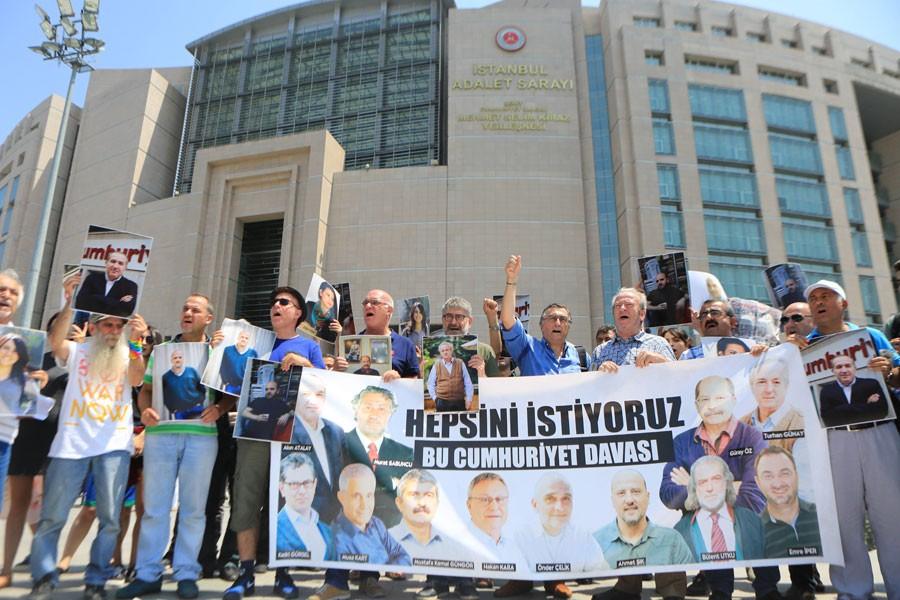 A court in İstanbul has decided to release seven journalists and staff of Cumhuriyet newspaper (Güray Öz, Musa Kart, Bülent Utku, Hakan Kara, Önder Çelik, Mustafa Kemal Güngör and Turhan Günay) pending the outcome of their trial.
The court on Friday ruled, however, that five other employees of Cumhuriyet newspaper, Akın Atalay, Kadri Gürsel, Ahmet Şık, Murat Sabuncu and Ahmet Kemal Aydoğdu, remain jailed until the end of the trial.
A total of 17 defendants is on trial accused of aiding terror organisations in a case that has added to concerns over rights, freedoms and judiciary independence in Turkey. Two other defendants are being tried in absentia.
WHAT HAPPENED?
The trial in İstanbul of 17 writers, cartoonists and executives from the Cumhuriyet newspaper began earlier this week. The defendants are some of the biggest names journalism in Turkey.
They are charged with supporting in their coverage three groups that Turkey considers terror outfits - PKK, DHKP-C and Fethullah Gülen.
Supporters say the paper has always taken a tough line against the three groups and is merely being punished for being one of the few opposition voices in the Turkish media.
Ahmet Şık's defence statement on the Cumhuriyet case
Journalist Ahmet Şık, in particular, gained notoriety in 2011 for publishing a book exposing the workings of the Gülenist movement, and their then-close connections to the ruling Justice and Development Party (AKP).
In his defence testimony, he savaged the two groups for bringing Turkey to its condition.
"They want us to keep silent about their guilt and to not tell the truth," he said."They are using the blood of the victims killed by the (15 July) putschists as a demagogic part of a cheap and shallow political strategy.
"Because those who hold the power in their hands have only one goal in mind: to continue their totalitarian rule, no matter what."
Eleven of the suspects have been held in jail in pre-trial detention, most of them for more than eight months, with the other six free but still charged.
Aydın Engin: The Cumhuriyet case is not a legal but a political case
INTERNATIONAL OBSERVERS CALL FOR ALL TO BE RELEASED
Representatives from international free expression groups and professional journalist organisations observed proceedings in İstanbul this week in the criminal trial of 17 journalists and executives from the Cumhuriyet newspaper.
Observers said; Cumhuriyet case is another politically motivated effort to criminalise journalism:
"We are alarmed that it appears to be grounded on a theory equating journalism with violent extremism.
This case is a test for Turkey – the outcome will signal the place human rights and the rule of law will hold in the country's future. We welcome today's order to release seven of the defendants and call on authorities to implement it immediately. But Turkey should release all of the Cumhuriyet journalists and executives, as well as the many journalists and human rights defenders, believed imprisoned for their work in violation of the fundamental human right to share and receive information."
International observers group was formed by the representatives of The European Centre for Press and Media Freedom (ECPMF), The European Federation of Journalists (EFJ), The International Federation of Journalists (IFJ), The International Press Institute (IPI), The International Publishers Association (IPA), PEN International, PEN Belgium (French and Dutch speaking centres), PEN Netherlands, PEN Norway, PEN Switzerland (French, Italian and Rethoromanch speaking centres), Reporters Without Borders (RSF). (EVRENSEL DAILY)
The trial of 17 employees of Cumhuriyet newspaper began
Pro-government newspaper demonises journalists who campaign for the journalists in prison