Headlines of Slander
Headlines dominating the pro-government media for days about the human right defenders detained after a police raid at Büyükada.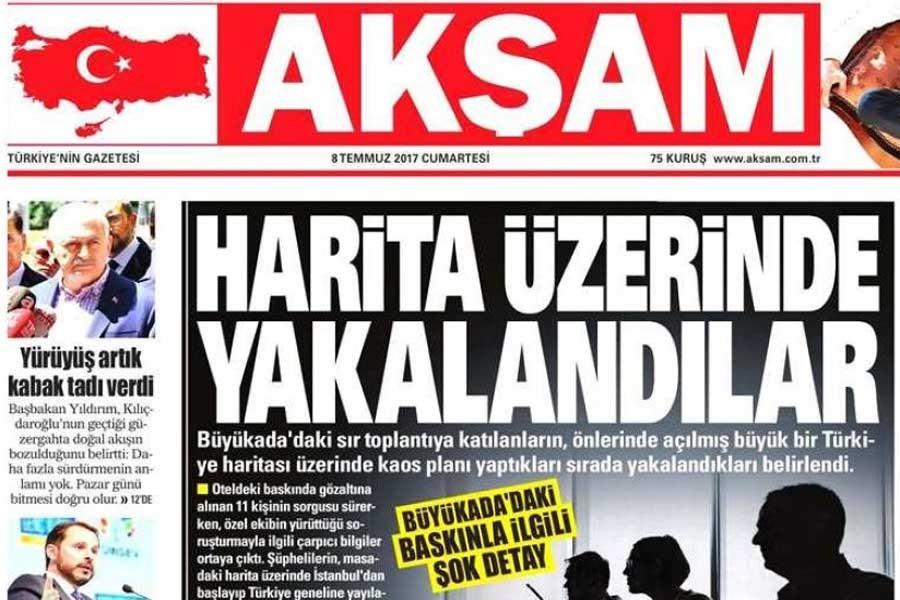 A glimpse at the statements by President Erdoğan and the headlines dominating the pro-government media for days about the human right defenders detained after a police raid on 5th July at Büyükada and the subsequent extension of their custody to 7 days, and we observe an elaborate attempt by the hands of the government itself to devise a perception of the matters aiming to invent crimes.
In the Akşam newspaper of 7 July, in an article by a Levent Albayrak headlined 'The organisation committee is in Büyükada,' claims were made that "As Kılıçdaroğlu draws near Istanbul, the sinister plot is revealed, preparations for a new Gezi provocation has been verified." In other words, with a fictional connection between Kılıçdaroğlu's march and human right defenders, a bilateral attempt to discredit is under way.
In this report about human right defenders who did not even appear before a public prosecutor yet, while the possible release of these persons is being easily dismissed due to the current political climate, journalism principles such as appealing also to the views of the accused themselves or their organisations are also being deliberately neglected.
The subheading of an article published in Akşam newspaper of 8 July by Muammer Başkan headlined "They have been caught looking at a map" reads as follows: "It has been proved that those participating the secret meeting has been apprehended as they devised chaos plans over a map of Turkey open in front of them."
In the photo used at the cover, faces of three people, including two men and a woman, have been blacked out and given an air of mystery typical of spy movies, are working on a map of Turkey. And the strapline: "It is established that suspects have been organising a new Gezi incident starting from Istanbul and then spreading across the Turkey over the map on the table."
Firstly, one could only but comment on whether the image used in the headline is a designed visual or real. For, one cannot make out whether the 3 people in this blacked out visual are really the people who attended this meeting. Beyond being genuine images, they may well be visuals generated digitally to form a certain perception of the matters.
As a journalist who has been acquainted with, Özlem Dalkıran who has been a participant in that meeting and has been arrested for the last decade, and as one who has had the chance to interview İdil Eser, the Amnesty International Turkish Director on two occasions, let me continue also by putting aside my deliberation that the accusations directed have no actual basis. Have there been any writers, political scientists or sociologists to this day who have claimed that Gezi events have occurred as a result of actual organising, as a social movement all about which could be anticipated in advance?
With what kind of ethos of journalism can the act of gross neglect of the criteria of "presumption of innocence" of those detained by the Akşam newspaper executives and editors as well as of the author, Muammer Başkan be explained?
How could render those who have not even appeared before a prosecutor as targets by such a headline be accounted for apart from appeal to attempts of creating a perception of crime about them and hence paving the way for the decisions yet to be made by the judiciary?
The Akşam newspapers headline of 9 July involves President Erdoğan's statement about the human right defenders detained that "it was a meeting characterised as a follow-up to the 15 July [coup]." This expression Erdoğan used for human right defenders presents itself as an element of a discourse of hate which accords with him branding the joint HDP (People's Democracy Party) leader Selahattin Demirtaş who had been elected with 6 million votes or his declaration of journalist Deniz Yücel as an 'agent' in the very same speech. The Akşam newspaper is conducting the reproduction of this discourse before the masses by trampling upon the professional principles of journalism.
And the headline of Star newspapers of 11 July, reading 'British hands in Büyükada' by Şerife Güzel gives the impression of a draft of a fiction prepared with a lot less care than even the plot of a 'James Bond 007' movie. In these reports saturated with claims of "revelations that the US CIA and the British MI6 organisations are behind the meeting in Büyükada where an attempt similar to Gezi events were devised under the guise of defence of human rights," we fail to learn as to how these have been discovered. The only source of the news is made up of the groundless allegations by AKP's Erzurum MP Orhan Deligöz against the human right defenders.
By the way, let's also remind all that human rights organisations recently made a statement which refutes all these accusations and claims.
And let's end with a question: if we were to be at a period when the President Erdoğan and his party's relationship with the EU, Britain and the US were on their usual course, would it have been possible that leaders of human right organisations, human right defenders face such treatment and witness such headlines?