Jeremy Corbyn to try force general election
Jeremy Corbyn: I think the public want and need a stable government that can deliver a serious programme and negotiate properly in Brexit.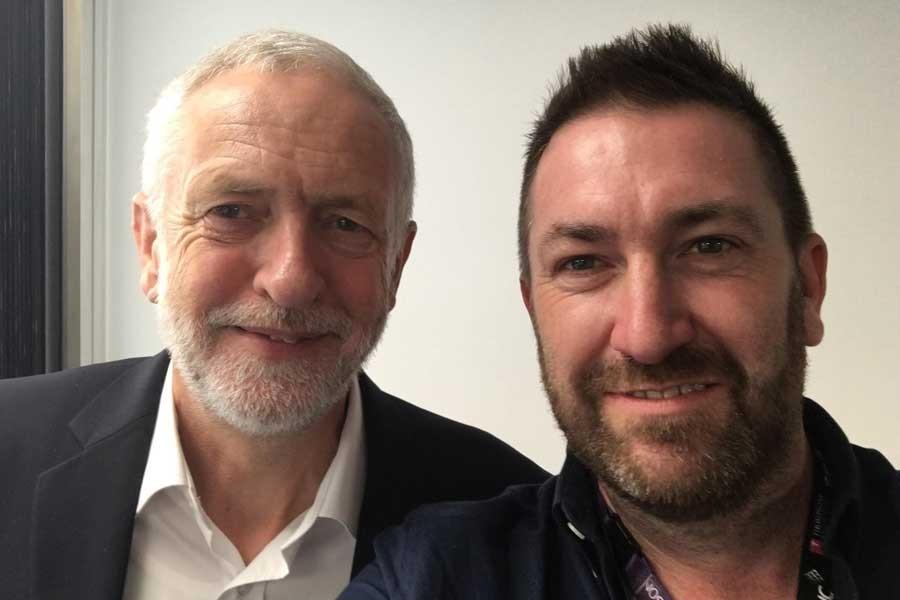 Steve SWEENEY
London
The leader of Britain's Labour Party Jeremy Corbyn is "ready to finish the job" of defeating the Tories and promised he will fight to force an
early general election and bring to an end to "ruinous austerity."
Corbyn said that the very idea that the Tories have any kind of arrangement to stay in office is "ludicrous" and has told parliament
that the Labour Party are a government in waiting.
He was repeating claims made in the House of Commons after the state opening of Parliament earlier this week when he tore into prime minister Theresa May and her "weak and divided minority government."
The leader of the official opposition was speaking just two weeks after the British general election which saw huge gains for the Labour Party
as Mr Corbyn described the building of a movement for hope and change.
The general election was called by Prime Minister Theresa May who expected a landslide victory and an increased majority.
Instead, the Tories lost seats, lost their majority and according to Corbyn and others "lost their mandate to govern."
Jeremy Corbyn is a long-standing friend of the Turkish people and a defender of democracy and human rights.
He was the national chair of the Stop the War Coalition - Britain's largest ever protest movement which mobilised 2 million people who
marched against Tony Blair's war in Iraq in 2003.
And Mr Corbyn is well-known for his support of the Campaign for Nuclear Disarmament (CND) which puts him at odds with many in the parliamentary party.
'WE WOULD CHALLENGE GOVERNMENTS THAT IMPRISON JOURNALISTS'
"I've been to Turkey many times and I do have many constituents, both Turkish people and Kurdish people who are actually united in wanting
peace, democracy and human rights in their country," he said. Mr Corbyn said his government would be driven by democracy and human
rights worldwide.
"We would challenge governments that imprison journalists, imprison judges or deny people freedom of speech."
"Also we would be very tough on the question of arms sales. Shadow foreign secretary Emily Thorberry on my behalf has already called for a suspension of arms sales to Saudi Arabia because of their activities in Yemen and I'm very concerned about British arms that are being used in Bahrain.
"But I am very concerned about the whole issue of human rights and security in Turkey."
Polls revealed on Friday morning that Mr Corbyn is ahead of Theresa May by one percentage point in voters opinion on who would make the best prime minister...
It is the first time that a Labour leader has been ahead of the Tories since Gordon Brown's brief moment of popularity nearly ten years ago.
"I don't normally comment on opinion polls," he said.
But he would be happy to see people voting Labour again in a general election and recognise the "coherent and cohesive" manifesto the party have put forward.
"We will be putting all of this to the test in votes in parliament on Wednesday and Thursday," Mr Corbyn revealed.
"We will vote against the government's programme but we will also be putting forward substantial amendments which will cover the fundamental points in our manifesto."
Corbyn does not hold much hope for the future of the Tory government and said that they don't appear to have made any kind of agreement with the DUP.
"Theresa May called the election because she was frightened of having a coalition of chaos and it seems to me exactly what we've got."
He vowed to challenge the government and "try and force an early general election."
"I think the public want and need a stable government that can deliver a serious programme and negotiate properly in Brexit," Mr Corbyn said.
He was clear on his priority for an incoming Labour government as he outlined plans to set in train "an economic strategy that would invest properly in the future of our society and deal immediately with the housing crisis that affects this country."
Inevitably we move on to the Grenfell Tower disaster of last week, a horrific tragedy which he said sends "a message to all of us."
"You cannot go on underfunding our public services expecting the poorest people to survive in the worst possible conditions and not ultimately pay a price.
"And whilst the investigation at Grenfell Tower is going on the reality is that 79 people have already been declared dead.
"Not one of those people should have died and in their memory and in the memory of those others yet to be named we have to make all our housing safe, we have to properly fund our fire and rescue services to make sure they are always there to help people."
He spoke about the nature of the inquiry and investigations into what happened at Grenfell, with residents warning the authorities about the
risks for years.
The building had no sprinkler system fitted, residents reported that fire and smoke alarms did not work and perhaps most devastatingly the
cheaper cladding that was used in a refurbishment caused the fire to spread more rapidly.
Residents fear that the establishment will close ranks and there will be an attempted cover-up as there was over the Hillsborough football
stadium disaster of 1989 which took over 25 years to secure any form of justice for the families.
Mr Corbyn said "From Hillsborough to Orgeave there is a pattern emerging. Working-class voices are being ignored by the powerful."
He is determined that this won't happen over Grenfell.
"I've set up a team based in my office which will put forward a view on how the enquiry should be run, what questions it should ask and the
timetable for it because we don't want this to go on forever.
Unison General Secretary called Theresa May to resign
'WE WANT ANSWERS QUICKLY'
"But I am also very aware that injustices are only exposed because very brave people campaigned for a very long time.
"I've made it very clear that one of our first actions as a Labour government would be to order a public inquiry into Orgreave and into
Shrewsbury which will, of course, expose the issue of blacklisting once again."
He paid tribute to those public servants and the firefighters who attended the Grenfell fire.
"They did everything any human being could have done on that dreadful night."
Jeremy explained that he spoke to firefighters who had attended the blaze.
"They went into a burning building when they knew it was dangerous when they knew they might be killed themselves.
"They were, in fact, advised not to go in because it was too dangerous for them and they ignored that advice and went in."
He asked them why they did that - "Because we are firefighters. That's what we do," they responded.
Mr Corbyn said the Grenfell Tower disaster showed just how important public sector workers are.
But he blasted the government for the public sector pay freeze that has seen nurses, firefighters and other workers subject to a 14 percent pay cut over the last seven years.
"If you go into any hospital across the country you'll find a lack of staff, incredible levels of stress in A & E departments among nurses and
support staff. You'll find people supposed to be coming off shifts working two or three hours later because they can't leave their
patients.
"It is that kind of dedication that we all rely on. Yet this government has underfunded health, underfunded social care and underfunded local
government all because they prefer to give tax giveaways to big businesses and the very richest in our society.
"We would do things very differently," Jeremy promised.
"But it's also what kind of society are we? Do we ignore the needs of the poorest? Do we ignore the poverty of the homeless or do we invest in
the future?
"I want a government that invests in the future and do you know what it would be a more coherent and happier society if that was the case."
First results indicate a coalition government for the United Kingdom