Map of the U.S. troops based in the Middle East
This chart shows the estimated number of U.S. troops based in Middle Eastern countries.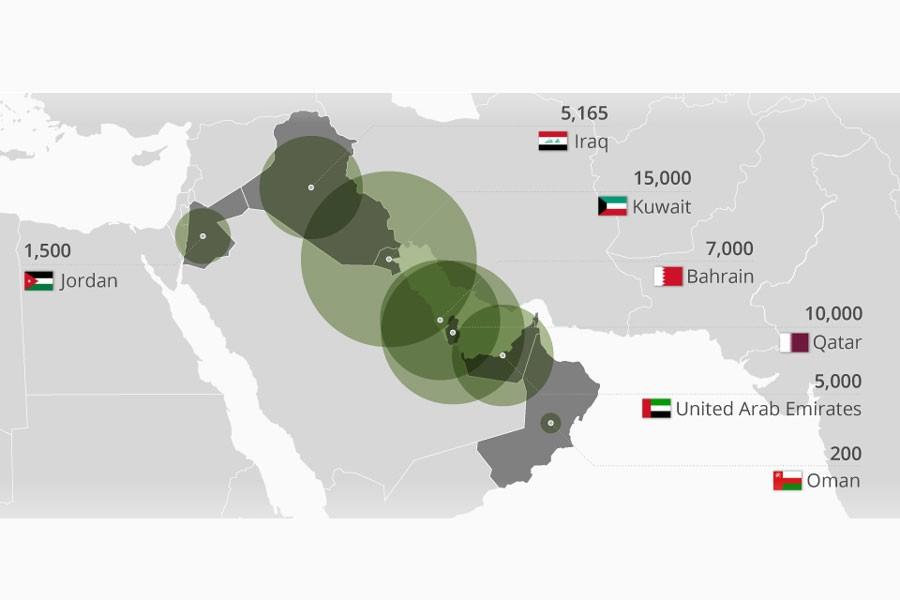 On Monday, Saudi Arabia, the UAE, Yemen, Libya's eastern-based government and the Maldives cut diplomatic ties with Qatar, creating a new crisis in the Arab world. U.S. President Donald Trump quickly waded into the row, lambasting Qatar in a series of tweets. Joining the Gulf states in labelling Qatar a funder of extremism, Trump tweeted that his visit to Saudi Arabia "was already paying off" and that Monday's developments could mark the "beginning of the end to the horror of terrorism."
Despite Trump's tweets and his accusations against Qatar, the country actually plays host to the largest U.S. base in the Middle East. Located south-west of Doha, Al Udeid Air Base hosts an estimated 10,000 U.S. troops and the facility has proven crucial in the fight against ISIS. Qatar invested $1 billion in constructing the base and it's also home to the U.S. Combined Air Operations Center, responsible for coordinating U.S. and allied air power across the Middle East, particularly in airspace over Iraq, Syria and Afghanistan.
Indeed, the base is likely to become even more important in the coming weeks as a U.S. backed alliance of Kurdish and Arab fighters gain traction in their offensive towards the ISIS stronghold of Raqqa. In the wake of Monday's events and Trump's comments, the Defense Department praised Qatar for hosting the base and its "enduring commitment to regional security". State Department spokeswoman Heather Nauert said, "we recognise that Qatar has made great efforts to stop the financing of terrorism but they still have a lot of work to do."
The following infographic highlights just how important Qatar is to the U.S. presence in the Middle East. The country hosts an estimated 10,000 U.S. troops, second only to Kuwait's 15,000. Neighbouring Bahrain is also vital to American interests in the region, home to the Naval Support Activity Bahrain, the U.S. Fifth Fleet and a substantial military presence at Isa Air Base. (EVRENSEL DAILY)
Trump pulls out the 'Pax Americana' weapon
Turkey's parliament approved to deploy troops in Qatar
Qatar crisis and it's effects on the Gulf