CHP leader Kılıçdaroğlu visits HDP for first time, calls for dialogue
CHP Leader Kemal Kılıçdaroğlu visited the HDP and called for dialogue and cooperation between the two parties for freedoms.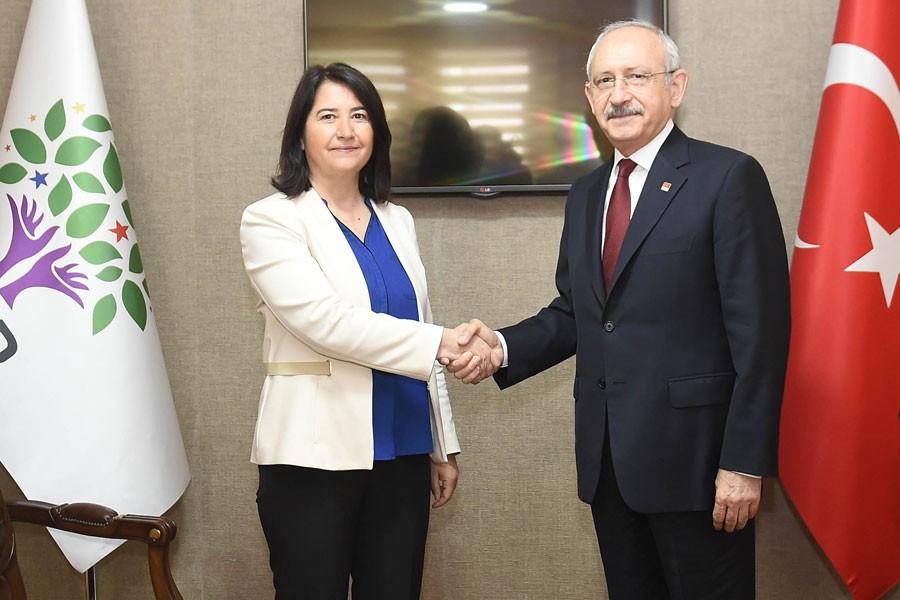 The leader of the main opposition Republican People's Party (CHP) Kemal Kılıçdaroğlu visited the headquarters of Peoples' Democratic Party (HDP) for the first time. Kılıçdaroğlu was received by HDP co-Chairperson Serpil Kemalbay.
Kemalbay was elected as the new co-chair of the HDP last month replacing jailed Figen Yüksekdağ, who lost her parliament seat in February and party membership in March after being sentenced to 10 months in jail. HDP's other co-Chairperson Selahattin Demirtaş has been also in jail since November.
"Under the common ground of democracy, we should come together by showing the will to live together. God willing, we will sing songs of democracy in the future and uphold of our country," Kılıçdaroğlu said at the joint press conference with Kemalbay.
Kemalbay thanked Kılıçdaroğlu for his visit and said it is very important for democratic forces to come together for dialogue particularly after a public referendum held on April 16 and introduced executive presidency in Turkey.
Both the CHP and the HDP were against the constitutional reform package that was voted in the referendum to introduce an executive presidency.
"I hope that this meeting will serve for the freeing of all our party's members in prisons," said Kemalbay as she called for the continuation of dialogue between the two parties.
Turkey has stepped up its crackdown on Kurdish politicians in recent months. Trustees have been appointed to dozens of municipalities in the country's predominantly Kurdish region, while hundreds of local Kurdish politicians, as well as 11 HDP deputies including the party's co-chairs, are behind bars.
Kılıçdaroğlu said nobody should be imprisoned due to their views and although there are differences in political views, there is a need to meet under democracy as a common ground. (EVRENSEL DAILY)
CHP Leader Kılıçdaroğlu criticises gov't for bid to change seniority indemnity system
Turkey to strip citizenship of HDP deputies and Fethullah Gulen
People in the predominantly Kurdish regions feel unsafe