The power of international solidarity: Hunger strike victory for Palestinian prisoners
After a 41 days hunger strike and international solidarity, Israeli authorities gave into some of the demands of Palestinian prisoners.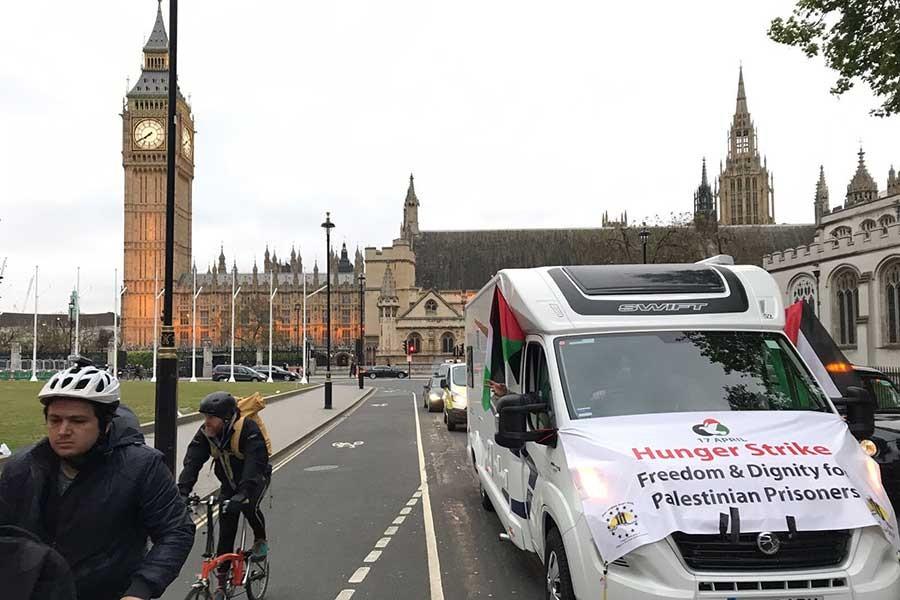 Ceren SAGIR
London
On April 17, Palestinian Prisoners Day, imprisoned Palestinian leader Marwan Bargouthi called for a hunger strike demanding better conditions in Israeli jails.
After 41 days Israeli authorities gave into some of the demands, including improved visitation rights, with pressure from international activists. Campaigners in Britain and all over the world, along with South African government officials, organised several hunger strikes to stand in solidarity with the prisoners.
British - Palestinian Aysar Shamallakh, 45, along with 7 others from the '17th April Group' started a hunger strike in Parliament Square in solidarity with the 1,600 prisoners.
Mr Shamallakh, husband and father of three from Gaza and an ambulance driver here in the UK, consumed only salt and water during his 20-day hunger strike. On his final day Mr Shamallakh said: "I have never been involved in politics. A big part of my job is to help people, and I like helping people.
"I feel that it's my duty to do something now to help my own people back home."
During his hunger strike Mr Shamallakh moved into a caravan travelling across England to raise public awareness of the prison conditions and held pickets outside parliament and the BBC. They also worked to lobby Members of Parliament to ask the British government to put pressure on the Israel government.
The group started the campaign paying for posters and leaflets from personal donations and soon had the support of other organisations and activists such as Football Against Apartheid and Palestinian Solidarity Campaign.
Many hunger strikes have taken place by Palestinian prisoners since 1968, but rarely there has been such success. Mr. Shamallakh says this is due to more international support and awareness. He said: "Before, when Palestinians went on hunger strike people would not know about it."
Palestinian prisoners and detainees resorted to the hunger strike as a method of peaceful protest against Israel's detention policies and conditions including the use of solidarity confinement, denial of family visitations, lack of warm meals, unventilated rooms, inadequate medical treatment, torture and other forms of degrading treatment.
Currently there are approximately 6,500 Palestinian prisoners, including children under 18, in Israeli detention centres, around 500 of which are held indefinitely and have not been trialled under Israel's system of administrative detention.
Detention of the prisoners by Israel is largely carried out without compliance with the provisions of International Human Rights and the Geneva Convention. Palestinians are detained throughout Israel and some are located in remote desert areas such as Nafha, far from families who have difficulty obtaining permits to leave the Occupied Palestinian Territories.
"We are hopeful because the fight is for dignity and for rights. And we only see victory," said Mr Shamallakh.