President Tayyip Erdogan takes helm at ruling AKP
President Tayyip Erdogan has regained the chairmanship of the ruling Justice and Development Party (AKP) after a three-year break.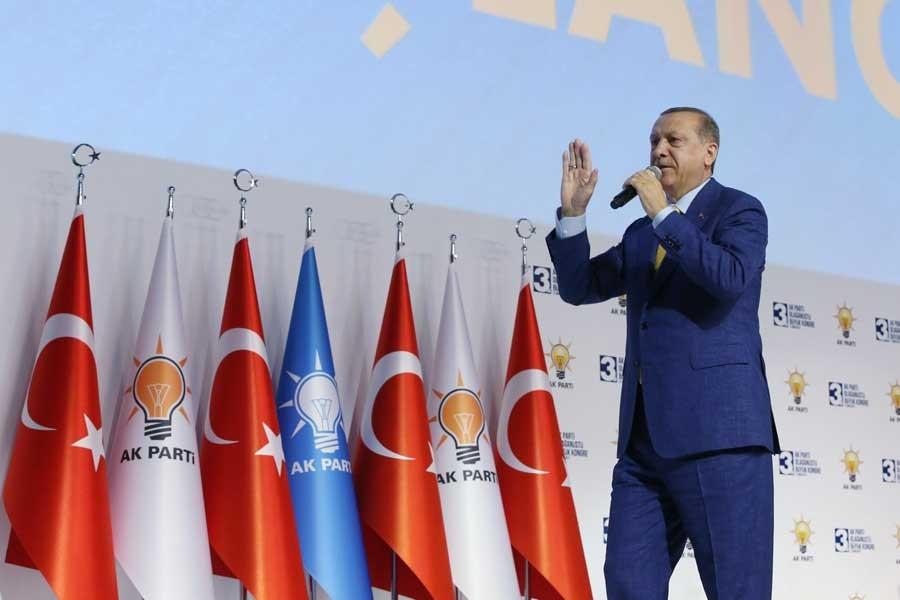 President Recep Tayyip Erdogan has regained the chairmanship of the ruling Justice and Development Party (AKP) after a three-year break, marking a new era for Turkish politics, while announcing an ambitious road map for a "more advanced democracy" and economy in a bid to win 2019 elections. Erdogan was re-elected the party chairmanship by 1414 votes in the congress after 998 days.
"We parted in this hall nearly three years ago with the motto of 'every end is a new beginning.' This separation was a legal obligation, but our hearts have never fell apart. We have lived all our joys and sorrows as one heart. Some 998 days after, and again in this hall, we are together and asking, 'Where were we?'" Erdogan told thousands of AKP colleagues in a long address at an extraordinary convention.
Erdogan stood as the only candidate for the leadership of the AKP to replace Prime Minister Binali Yıldırım, after a controversial April 16 referendum allowed the head of the nation to retain links with a political party.
Erdogan had joined the AKP on May 3. Yıldırım will serve as the acting AKP chairman.
All cabinet members, along with AKP lawmakers, party management and provincial bodies attended the convention at the Ankara Arena Sports Center along with tens of thousands of voters that flocked to the capital in a bid to greet Erdogan's leadership after a three-year break.
The president's return to the leadership also signifies the beginning of a "new era" on which Erdogan delivered important messages. "The responsibility to shape the architecture of the new era is on our shoulders. We will run a two-fold program. One the one hand, we'll move our democratic achievements forward and on the other, we'll take bigger steps for the development of our country," he said.
'WE HAVE TO ROLL UP SLEEVES'
Citing 2019 presidential and parliamentary elections as the next target of the AKP, Erdogan urged all party officials to start to work even today. "Our job is very difficult now. We no longer have the opportunity to come to power with 34 percent, 47 percent or even 49.5 percent of the votes that we had in previous elections. Now the bar is 50 percent plus one. We have seen how difficult it is to get this vote in recent referendum," Erdogan said. "If we want to get this result in the 2019 elections, we should roll up sleeves and start to work immediately. The AKP has not even one minute to waste."
To this end, Erdogan stressed that the party management and local organisations would be fully renewed by the end of the year.
'THE STATE OF EMERGENCY WILL NOT BE LIFTED'
One of the strongest messages Erdogan gave regarded the fight against the "Fethullahist Terror Organization (FETO)", which has been blamed for the July 2016 coup attempt. "I will stand against anybody, including my nearest ones, if they are involved in such treason," he said.
"Turkey cannot permit another treacherous attempt to be staged by this organization. I invite everyone to contribute to this fight against FETO," he said, also vowing to fully destroy the PKK.
"Whatever we are doing is for our country. They ask us when the state of emergency will be lifted. France has had it for nearly one-and-a-half year although it was about terror acts committed by 10 or 15 terrorists," he said. "In my country, they tried to bring down the state. Some 249 people were killed. How dare you ask this? The state of emergency will not be lifted until comfort will be provided. We will extend it for the safety of our country."
'NO PATIENCE FOR EU'
Erdogan's message on the relationship with the European Union struck a similar chord to previous harsh statements toward the group. Citing the EU's policies on Turkey as two-faced, Erdogan said: "We don't have to be patient in the face of such an attitude that disrespects our honor. The EU will either grant a visa waiver, open chapters, send financial aid for refugees or everyone will stick to their guns. Despite everything, our intention is to continue our way with the EU. But the visits I have made this month show that a greater world is open to Turkey," he said.
'ADVANCED DEMOCRACY'
In the face of growing criticisms on the precipitous deterioration of human rights and democracy in Turkey, Erdogan sought to assure that one of the priorities of the new era would be to upholding "democratic achievements."
"Democracy is about actions and not words," Erdogan said, calling on citizens not to feel discriminated against or worry about the exercise of their fundamental right.
"Every citizen of this country is a first-class citizen and has the right to use their fundamental freedoms. We will avoid both the middle-income trap and middle-democracy trap," he said, vowing "advanced democratic standards" for Turkey. (DHA)
Labour Party of Turkey: No to 'one man, one party dictatorship!'
Prof. Dr. Ibrahim Kaboglu: Leader, Party and State are merged