Education on stools in the heart of Istanbul
With many religious vocational high schools in Istanbul empty, pupils at Anatolian high schools cannot find a permanent class and desk to sit at. Parents spoke to Evrensel, saying their children had received a raw deal.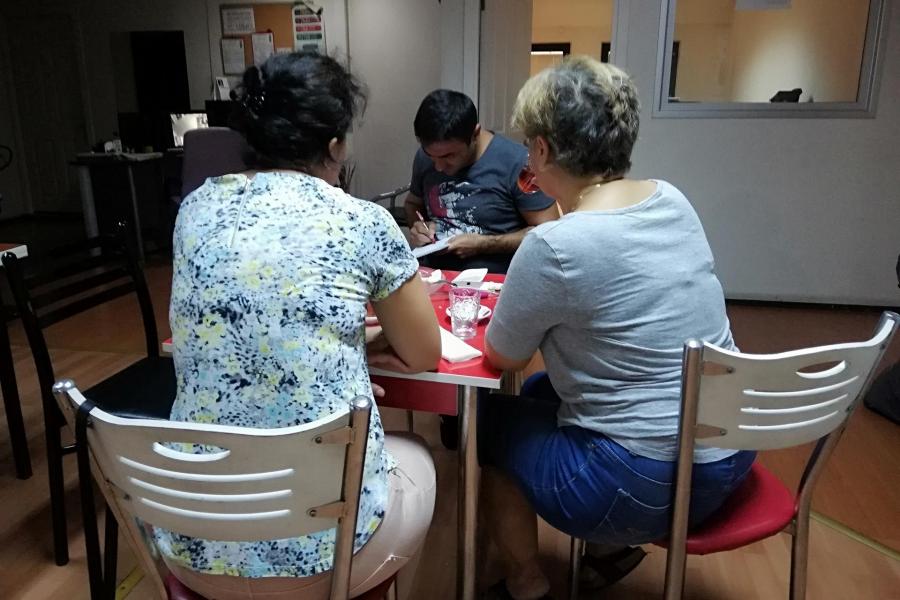 Vural NASUHBEYOĞLU
İstanbul
Utter chaos is being experienced in the first days of school at Istanbul Bahçelievler Republic Anatolian High School. More than 650 pupils were enrolled at the school, which has a student capacity of 350. With the number of classrooms falling short at the school where class sizes have risen to 45, pupils have to spend the day drifting from class to class within the school. In fact, if the art workshop, laboratory and sports hall are empty during the day, they are used as classrooms.
Outraged at the situation, parents and pupils made a beeline for the door of the school's administration. Parents, obtaining the response from school administration, "The matter is out of our hands. Overenrolment has been made at the school in the system," have spoken to Evrensel.
EACH LESSON IN A DIFFERENT PLACE
Pointing to the massive mismatch between the number of the school's classrooms and its facilities and the number of pupils, the parents noted that for this reason pupils roamed around all day taking their lessons as a group in different empty classes, not in fixed classes such as "9-B, 9-C" to which they were assigned. They noted that maths lessons were held in the art workshop and, because there was no space for the pupils when desks were placed in the small laboratory, lessons were conducted on stools with bags on their backs.
"WE'RE SITTING ON STOOLS AND I'VE GOT BACKACHE"
Another parent, in turn, quoting her child's outraged message, "Mum, there are 45 people, we've been sitting on stools for three lessons and I've got backache," said they had been informed it was also impossible for the laboratory to be turned into a classroom because when fitted with desks it could only hold ten or twelve pupils. Indicating that the teachers were also disgruntled at the situation and admitted that a good educational performance was not achievable in such a setting, the parent said, "I'm trying to get my child admitted to another school."
"RELIGIOUS VOCATIONAL HIGH SCHOOLS ARE EMPTY AND WE HAVE NO DESKS"
Summing up what had been dished out to them as, "Mother and fathers who don't send their children to religious vocational high schools are being penalized," the parent indicated that there were empty places at religious vocational high school in many places and, indeed, two floors of the four-storey religious vocational high school were empty. Further criticizing Minister of National Education Ziya Selçuk's announcement that religious vocational high schools were 99% full, the parent's reaction was, "With them having empty floors, our children are trying to get their education without having a class or even a desk." We contacted the school about the issue but were unable to get through to officials there.
EDUCATION AND SCIENCE WORKERS' UNION: THE PROBLEM IS EVERYWHERE
Education and Science Workers' Union Istanbul Branch No 1 Chair Mesut Mike, noting that what was going on at Bahçelievler Republic Anatolian High School was also happening in places like Bayrampaşa, Kasaımpaşa and Bakırköy, said, "The problem is everywhere." Noting that eighth grade classes at Bakırköy Anatolian High School had been transferred to the Fine Arts Anatolian High School, said, "This situation is down to both the new system and to the closure of high schools that provide academic education such as Anatolian high schools. There is a demand from parents and students for such schools but the number of these schools is not increased." Indicating that many schools had been turned into religious vocational high schools and some schools into vocational high schools, Mike commented, "The physical infrastructure of schools giving academic education has thus become deficient. This amounts to forcing parents who do not wish to send their children to religious vocational high schools or vocational high schools to beg and borrow and send their children to private high schools for their children's future."