From currency war to trade war
Donald Trump's decision has been a cause for concern in sectors such as energy, automotive, construction, aerospace and industry.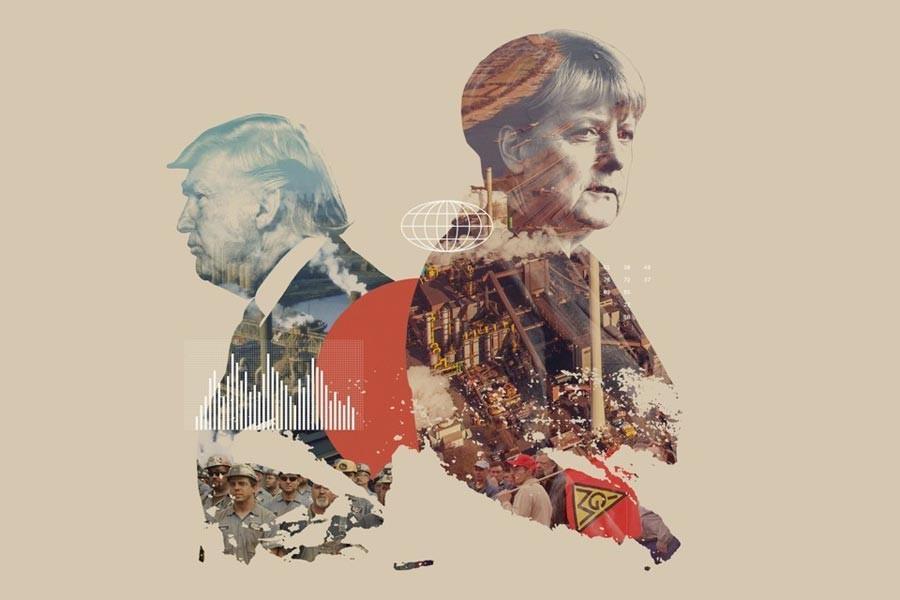 US President Trump has repeatedly emphasized that the dollar is worth more than other currencies since the elections, and pointed to the negativity it created in terms of foreign trade and industrial employment. This attitude loosened the position of the dollar against other developed country currencies, coupled with the ongoing lack of confidence since the time Trump administration took office. But the discussion did not stop.
Last year, Trump's Chief Commercial Advisor Navarro stressed that Germany has exploited its trading partners with weak euro currency. Although Merkel later stated that she did not agree with this statement, Finance Minister Schaeuble admitted that euro might be a little stronger in Germany, but he also added that this could create problems in terms of other euro economies.
It is not uncommon for Navarro's statements to directly target Germany. Because, in recent years, it is the world's largest trade surplus country, accounting for almost half of Germany's export GDP, leaving China behind, 9.5 percent of which goes to the United States. But the same is not true for every eurozone country. In 2017, it was emphasized by the research company World Economics that the value of the euro for the Germans was low by 17%, while for France and Greece it was overvalued by 5% and 7%, compared to the purchasing power parity approach.
Of course this is not the whole story.
The sectoral composition of countries' exports are quite different. Germany is at the forefront of advanced technology products and therefore the exchange rate elasticity of exports is lower than other eurozone countries. For this reason, even at a time when euro increases in vlaue, it can expand its exports. Many regional economies such as France, Italy and Spain, Portugal and Greece frequently express the discomfort they have with euro's strong position.
The currency debate has finally flared again in January as Treasury Secretary Steven Mnuchin stated that the weak dollar is good for the US economy. While the dollar was decreasing in value against other currencies after the announcement, it was emphasized that the administration believed in the free exchange rate regime in a statement made by White House. Immediately afterwards, Trump said in an interview that he was tweaking his style, that the dollar would strengthen as the economy strengthened, and he wanted a strong dollar.
The US public has long been accustomed to inconsistent statements by Trump. The important thing is to be able to catch the true tendency in verbiage. If there is, of course. It is not unusual for Trump to engage in arbitrary policy formulations to pass over the moment. But commercial protectionism is different. This is a policy proposal, which he has been focusing on since the beginning, which allows the votes in the industrial sector to return to himself. However, it also gives rise to the impression that he is not overly prepared for the results and is proceeding with trial and error.
Trump's last trade-off against commercial protectionism was to bring 25 per cent additional customs duty on import rebar and 10 per cent on alumina. Immediately afterwards, it was announced that major steel exporters such as Germany, Canada, Brazil and China would respond in a similar way to the practice. The EU Commission stated that the association is preparing to retaliate with a list of many steel, industrial and agricultural products. At the moment, if we tell the EU is trying to see that if Trump will step back or not, I guess we are not mistaken.
Trump's protectionism sparked different reactions within the United States. Steel producers such as US Steel Corp and Arcelor Mittal have been on this line for a long time on Trump. After the announcement, there was a 7 percent increase in their shareholders' equity. On the other hand, the decision has been a cause for concern in sectors such as energy, automotive, construction, aerospace and industry, whose profits will be suppressed due to the increase in steel prices. Ford, Caterpillar, Boeing and other companies' shares fell about 3 percent. In the total of these sectors 80 times more people are employed than the steel industry employs. There is no doubt that the section to be victimized by customs retaliation will expand further.
This time Trump made a very risky move. We are finally talking about a country that is not only the world's largest importer but also the second largest exporter. Eventually, he could lose a much larger electorate than he had gained. Moreover, the world economy can be dragged into a trade war that will expand from day to day.