May should publish the suppressed report on the foreign funding of British-based extremism
May is under pressure to release a report commissioned by former prime minister Cameron which looked at revenue streams for extremist groups.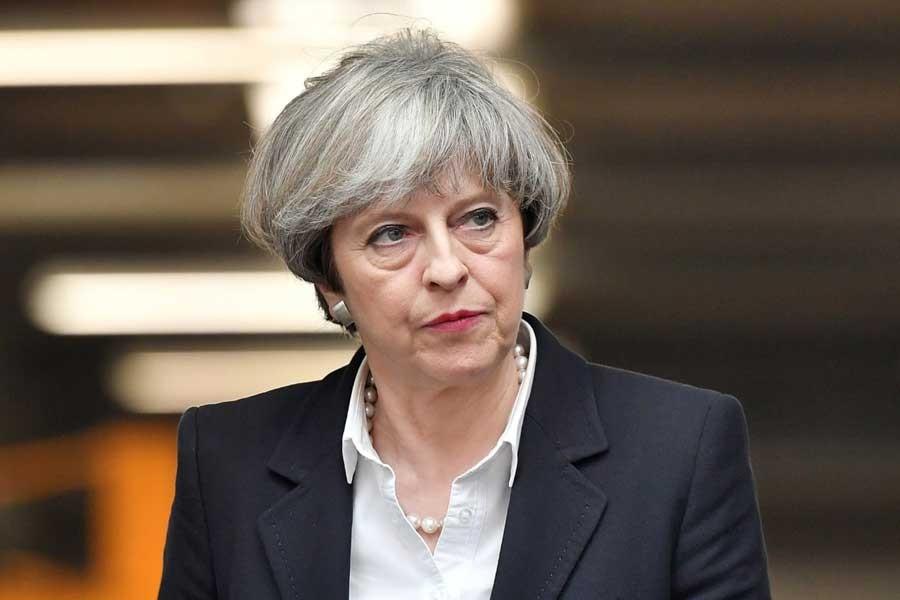 Steve SWEENEY
British prime minister Theresa May has been branded a hypocrite as she called on world leaders to cut off funding for terrorists channelled through financial institutions at the G20 meeting in Germany.
Ms May warned that Islamic State is using loopholes to build up funds as she called for action to make the banking system hostile to terror groups.
However Labour leader Jeremy Corbyn - who has made repeated calls for the funding supply for terrorist groups to be cut off - said if the prime minister is serious about tackling terrorism, she must stop cosying up to Saudi Arabia and other Gulf states.
He also called for the publication of a suppressed report into the foreign funding of British-based extremism.
Campaigners have expressed shock at the prime ministers' attempts to position herself as a leader in the war on terror as she made it her top priority at the G20 talks in Hamburg.
Ms May used a speech to call for the sharing of information internationally about the movement of foreign fighters leaving Syria and Iraq allowing them to be tracked.
She told the G20 leaders: "We know that the terrorist threat is evolving. We have seen the threat spread out of Syria and Iraq - into other countries and online.
The prime minister added that measures must be taken "against permissive environments for terrorist financing, and monitoring the dispersal of foreign fighters from battle."
However, when she was home secretary, suspected terrorists based in Britain were cultivated by MI5 and allowed to travel unhindered across Europe.
They were encouraged by intelligence services to join forces battling to topple Libyan leader Muammar Gaddafi and then to join al-Qaida-affiliated groups in Syria.
Manchester bomber Salman Abedi was part of the Libyan Islamic Fighting Group (LIFG), proscribed as a terrorist organisation in Britain who are part of an "al-Qaida-inspired" global Islamist extremist movement aiming to create a "hardline Islamic state" in Libya.
The British members of the group - known as the "Manchester boys" - were deemed to be a high risk and subject to control orders as recently as 2011.
However, when there were signs of an uprising against Gaddafi, the control orders were lifted and many had their passports returned and were allowed to board flights to Tripoli.
Mr Abedii is reported to have been placed on a "terrorist watch list" by the FBI last year who warned MI5 that he and his group were looking for a "political target" in Britain.
However, he was allowed to re-enter the country unchallenged and went on to carry out the Manchester Arena bombing which killed 22 people, including children.
Ms May is also under pressure to release a report commissioned by former prime minister David Cameron which looked at revenue streams for extremist groups which was due to be published last spring.
Thousands march on Parliament in London against Tories
Green Party co-leader Caroline Lucas questioned whether the "astonishing" delay in releasing the details of the report, which is believed to be heavily critical of Britain's relationship with Saudi Arabia, is to do with maintaining diplomatic ties with the Gulf state.
Saudi Arabia - Britain's biggest trading partner in the middle east - is one of the world's main sponsors of extremist ideology and has been accused of funding terrorism directly or indirectly.
Britain has licensed a staggering £3.3 billion in arms to Saudi Arabia since they began a bombing campaign in Yemen in March 2015.
The prime minister has ignored advice from three influential parliamentary committees who recommended a pause in arms sales pending investigations into allegations of human rights abuses and potential war crimes.
The bombing of Yemen has killed at least 10,000 people with 80 per cent of the country reported being starving as a humanitarian crisis unfolds.
Campaign Against Arms Trade (CAAT) has taken the decision to sell weapons to the Saudi's to the High Court in a judicial review, with a decision expected on Monday.
Earlier this year Ms May visited Turkish President Recep Tayyip Erdogan where she brokered a £100 million fighter jet package, a gateway deal which will be worth billions to the British economy.
However, she was criticised for failing to raise concerns over atrocities committed by Turkey, with a statement from her office suggesting "human rights and trade are distinct."
President Erdogan has come under fire for wide scale oppression which has seen a major clampdown on opposition.
Hundreds of media outlets have been closed down, thousands of academics purged and over 100,000 government workers sacked.
A third of the world's total jailed journalists are in Turkish prisons as press freedom and democracy are seriously restricted.
Whole cities in the largely Kurdish south-east of the country lie in ruins with at least 500,000 people displaced according to the United Nations.
And the leaders of the opposition People's Democratic Party (HDP) are among 13 MPs in prison.
Mr Corbyn said: "If Theresa May is serious about cutting off financial and ideological support for terrorism, she should publish the suppressed report on foreign funding of UK-based extremism and have difficult conversations with Saudi Arabia, not hug Saudi and allied Gulf States even closer."
Jeremy Corbyn to try force general election